A REVIEW COPY OF INNOCENT KILLERS
SENT TO THE NOTED ECOLOGIST AND AUTHOR SIR FRANK FRASER DARLING TWO WEEKS BEFORE PUBLICATION
LAWICK, Hugo van and (Valerie) Jane GOODALL. Innocent Killers. London: Collins, 1970.
Octavo (241 x 164mm), pp. 222, [2 (final blank l.)]. Illustrated title and illustrated part-titles to chapters on 'Wild Dogs', 'Golden Jackals', and 'Spotted Hyenas' after photographs by Hugo van Lawick. 26 half-tone plates with illustrations recto-and-verso, all after Hugo van Lawick. (A few light marginal marks.) Original green boards, spine lettered and ruled in gilt, map endpapers, dustwrapper with colour illustration after Hugo van Lawick, not price-clipped. (Extremities slightly faded, rubbed, and bumped, dustwrapper faded on spine, edges creased and with short tears causing small losses.) A very good copy. [With, loosely inserted:]
Eric Patrick MAJOR. Typed letter signed ('Eric Major') to Sir Frank Fraser Darling ('Dear Sir Frank') enclosing this copy in the hope that Fraser Darling might review it. London, 29 September 1970. Quarto, one page, on paper with printed Collins letterhead. (Folded for dispatch.) Together with Major's printed compliments slip as Publicity Manager for Collins.
Provenance: Sir Frank Moss Fraser Darling (1903-1979).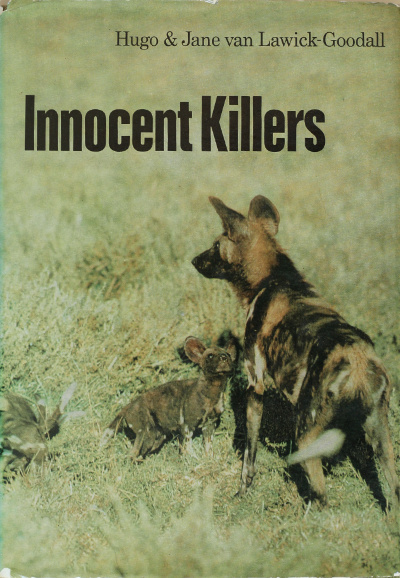 First edition, pre-publication review copy. After working with Louis and Mary Leakey in Tanzania, the primatologist and conservationist Dame Jane Goodall went to Gombe Stream Game Reserve (now Gombe National Park) on the western border of Tanzania in 1960, where she established a small research station, made the important discoveries that chimpanzees used tools and were not vegetarian, and undertook research upon which her doctorate at Cambridge University was based. In 1964 Goodall married the Dutch wildlife photographer and film-maker Hugo van Lawick and, following the completion of her doctorate in 1965, she returned to Africa to continue her research. There she established the Gombe Wildlife Research Institute in 1967 (which she has led as Scientific Director from its inception) and published her first book My Friends the Wild Chimpanzees (London, 1967), which was illustrated by Hugo van Lawick.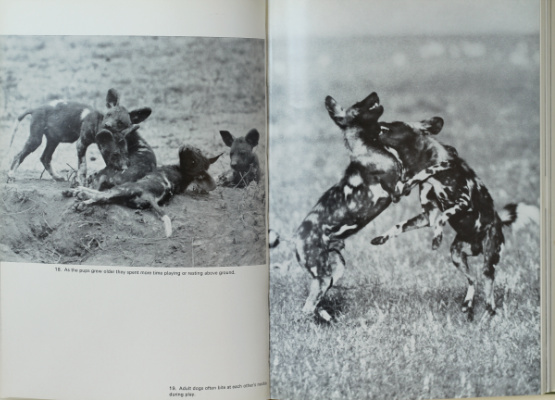 Innocent Killers was originally intended to be written and illustrated by Hugo van Lawick, but other commitments necessitated a restructuring of the planned work and contributions by Jane Goodall (thus making it her second book). The volume was published under their married names of Hugo and Jane van Lawick-Goodall, and is divided into four chapters, the first of which – 'Hunting Grounds by Day and by Night' by Jane Goodall – sets the scene and provides the scientific context of their research in the Lake Lagaja and Ngorongoro Crater areas of Tanzania. This is followed by three studies of separate species: 'Wild Dogs: Nomads of the Plains' by Hugo van Lawick (a study of the African Wild Dog or Cape Hunting Dog), 'Golden Jackals: The Daring Scavengers' by Hugo van Lawick (a study of the Golden or Asiatic Jackal), and 'Spotted Hyenas: The Chuckling Hunters' by Jane Goodall (a study of Spotted or Laughing Hyenas). These chapters are preceded by a preface by Louis Leakey and followed by an epilogue, which describes The Stealthy Killers(the projected sequel to Innocent Killers) which would be a study of 'the lives of lions, leopards and cheetahs' (p. 209; it was, however, never published). In his preface, Leakey wrote that '[w]ith such a mass of wholly new information about the three species described, and with such wonderful illustrations, few will be able to resist buying the book, while ethologists and animal behaviourists will require it as a sort of hors d'oeuvre for the scientific reports that will follow as the study proceeds' (p. 12).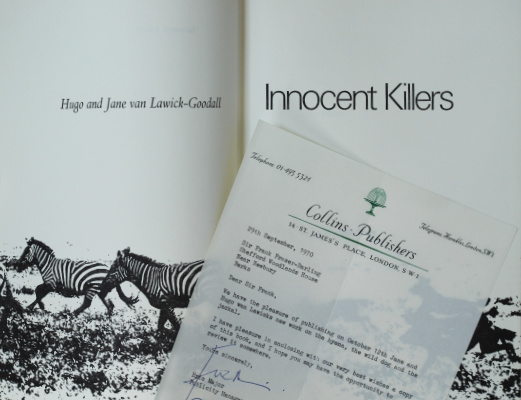 Collins received the photographs and manuscript for the book in early 1970, and it seems to have been ready in late August or early September 1970, since Jane Goodall wrote to her parents on 16 September 1970 that '[o]ur copy has just arrived, and we think it has been produced really beautifully, and that the price, for the book, is amazingly cheap' (quoted in D. Peterson, Jane Goodall: The Woman who Redefined Man (Boston, MA, 2008), p. 474). This copy was sent by Eric Major (the Publicity Manager for Collins) to the noted British ecologist and author Sir Frank Fraser Darling on 29 September 1970, with a letter explaining that '[w]e have the pleasure of publishing on October 12th Jane and Hugo van Lawick[']s new work on the hyena, the wild dog and the jackal. I have pleasure in enclosing with our very best wishes a copy of this book, and I hope that you may have the opportunity to review it somewhere'. Fraser Darling was the Vice-President of the World Conservation Foundation in Washington, DC, had published on ecology and conservation in Africa, and had given the BBC's Reith Lectures in 1969 (published in 1970 under the title Wilderness and Plenty), which had 'made a considerable impact on a community that had just discovered the meaning of the word "conservation"' (ODNB). Although Fraser Darling was a very suitable choice of reviewer, we have not been able to trace any review of this work by him.
£45
· · · · · · · · · · · · · · · · · · · · · · · · · ·
UK Orders
To order this book within the UK, either use the button below to pay using PayPal or a credit card (using PayPal Guest Checkout), or email us: enquiries@typeandforme.com.
Postage

UK: FREE for items above £45 (otherwise £4.50 per item, added at checkout)

Rest of World: please contact us for a quote: enquiries@typeandforme.com

Multiple orders: we may be able to reduce postage costs! Please enquire: enquiries@typeandforme.com
Our Terms & Conditions apply.