Charles Darwin's 'Notebook B' and 'Notebook C', which were last seen more than 20 years ago, have safely returned to Cambridge University Library!
The two notebooks were fundamental for Darwin's development of his theory of evolution – one contains the iconic 'Tree of Life' sketch of 1837. Some 15 months ago, the University Librarian, Dr Jessica Gardner, launched a worldwide appeal for their safe return, in collaboration with the police and the book world at large, including libraries and the International League of Antiquarian Booksellers (ILAB).
We were honoured to assist with the authentication of the notebooks once they appeared – mysteriously, in a bright pink gift bag and disguised as an Easter present for Dr Gardner (as the University's press story illustrates) – and would like to congratulate Cambridge University Library and all involved on this success!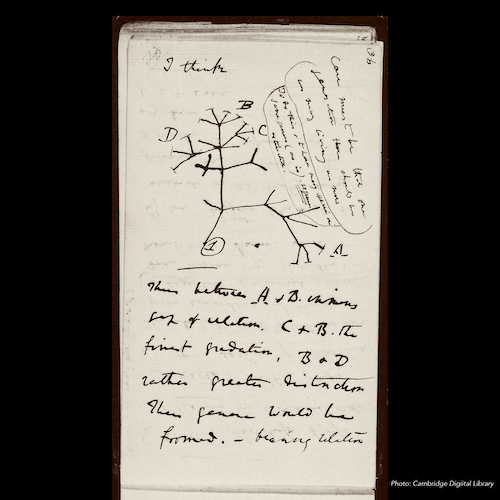 The full story is available on the University of Cambridge website.