CHRISTIE'S 'HANDSOME AND THOROUGH' CATALOGUE OF QUENTIN KEYNES' CELEBRATED
COLLECTION OF BOOKS AND MANUSCRIPTS ON TRAVEL AND EXPLORATION
KEYNES, Quentin George – CHRISTIE'S. The Quentin Keynes Collection, Part I: Important Travel Books and Manuscripts. London: Christie's, 2004.
Quarto (268 x 209mm), pp. 472. Numerous colour-printed illustrations, many full-page. Original printed wrappers, inner wrappers and facing pages illustrated with images of Keynes' passports. (Extremities minimally rubbed.) A very fresh, clean copy.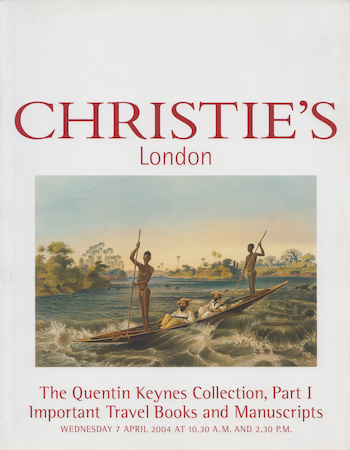 First edition. This was the first of four catalogues published by Christie's to accompany their series of auctions of the library of the noted explorer, film-maker, and bibliophile Quentin Keynes (1921-2003). This first catalogue was for the sale of his collection of books and manuscripts relating to travel, which comprised 500 lots and was sold on 7 April 2004 (the other sales were of Keynes' natural history books (part II, 8 April 2004), his collection of modern literature (part III, 8 April 2004), and a final sale of works from all fields (part IV), which took place on 22 September 2004). The catalogue is prefaced by a memoir of Keynes by his nephew Simon Keynes – the author of Quentin Keynes. Explorer, Film-Maker, Lecturer and Book-Collector 1921-2003 (Cambridge, 2004) – and it is divided into sections on 'Voyages', 'The Atlantic', 'The Americas', 'Australasia and Polynesia', 'The Indian Ocean', 'The Middle East and Asia', 'Richard Burton', and 'Africa'.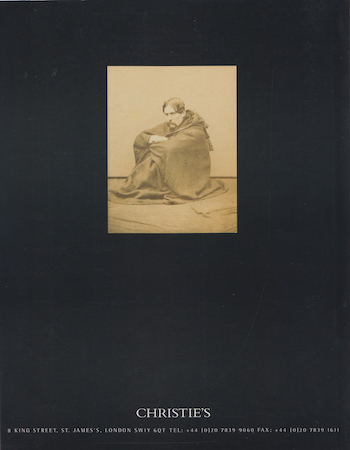 The Book Collector's reviewer commented that the 'catalogues were handsome and thorough' (vol. 55 (2004), pp. 256-262, at p. 256), and this first catalogue was particularly notable for the wealth of material by and about Sir Richard Burton (lots 213-306). Keynes had assembled the most important collection of Burton's manuscripts in private hands, which formed the basis of Keynes' Roxburghe Club book The Search for the Source of the Nile (London, 1999) and was subsequently acquired by the British Library. The printed Burton material and associated photographs, manuscripts, etc. which were offered in this catalogue included some of the great rarities of the canon, such as A Complete System of Bayonet Exercise (lot 228), The Case of Captain Burton, Late H.B.M.'s Consul at Damascus (lot 261), and a presentation copy of the suppressed Stone Talk (lot 274).
£17.50
· · · · · · · · · · · · · · · · · · · · · · · · · ·
UK Orders
To order this catalogue within the UK, either use the button below to pay using PayPal or a credit card (using PayPal Guest Checkout), or email us: enquiries@typeandforme.com.
Postage

UK: FREE for items above £45 (otherwise £4.50 per item, added at checkout)

Rest of World: please contact us for a quote: enquiries@typeandforme.com

Multiple orders: we may be able to reduce postage costs! Please enquire: enquiries@typeandforme.com
Our Terms & Conditions apply.