AN ENLARGED EDITION OF FIRST AID TO THE INJURED, WITH ADDITIONS ON THE SCOPE OF FIRST AID, TREATING BURNS, AND TRANSPORTING PATIENTS WITH SPINAL INJURIES
[CANTLIE, Sir James, et al.] First Aid to the Injured. The Authorised Textbook of the St. John Ambulance Association being the Ambulance Department of the Grand Priory in the British Realm of the Venerable Order of the Hospital of St. John of Jerusalem. Thirty-Ninth Edition. Fourteenth Impression (100,000) 1939. London: The St. John Ambulance Association, 1939.
Quarto in 16s (128 x 106mm), pp. 294, [2 (advertisements)]. One fold-out anatomical diagram printed in red and black tipped onto upper pastedown, 138 diagrams and half-tone illustrations in the text. (Very occasional very light marking, folding plate lightly creased at edges, final l. creased at corner.) Original black structured cloth, boards with border of triple blind rules, upper board and spine lettered in white and with white St. John Ambulance device. (Extremities lightly rubbed and bumped, spine slightly leant, endpapers lightly spotted.) A very good copy.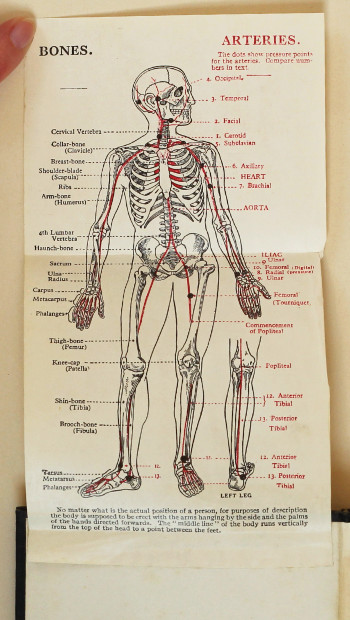 39th edition, 14th impression. The St. John Ambulance was established in 1877 and started publishing first aid manuals in the following year. The first of these, Aid for Cases of Injuries or Sudden Illness, was written by Surgeon Major Peter Shepherd to instruct the Metropolitan Police (and others receiving first aid training) in all matters of dealing with the injured and ill. Sir James Cantlie's First Aid to the Injured was first published in 1901 and was the 'Authorised Textbook of the St. John Ambulance Association' until 1958. Cantlie (1851-1926), like Shepherd, had studied medicine at Aberdeen University, and then took up a position at London's Charing Cross Hospital, serving successively as Instructor in Anatomy, Demonstrator in Anatomy, House Physician, House Surgeon, and Surgical Registrar (he was also elected a fellow of the Royal College of Surgeons in 1877). Working at a busy London hospital, Cantlie saw many injuries caused by accidents, which led him to join the St John Ambulance Association shortly after its foundation, and to serve as a first-aid instructor. In June 1887, Cantlie 'gave St John's first public demonstration in first aid at the Medical Congress and Exhibition held in South Kensington. It was a last-minute affair and Cantlie later confessed that he did not know what constituted an ambulance demonstration' (https://museumstjohn.org.uk/collections/first-aid-manuals/).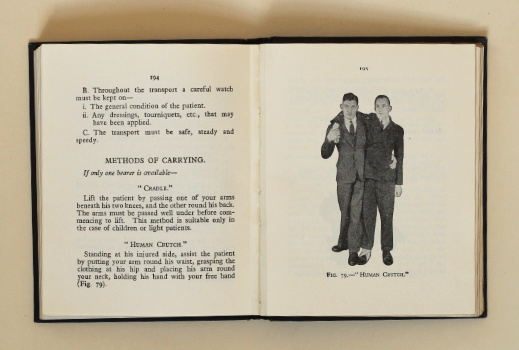 The 39th edition was first issued in September 1937 and was intended to deal with three questions that had arisen since the 1928 publication of the 38th edition, which are outlined in the Preface: 'the scope of first aid, the treatment of burns, and the method of transporting patients with a spinal injury' (p. [13]), and it was felt necessary to use a stricter definition of the term first aid, so that first aiders were not encouraged to encroach on the role of a nurse. Additional chapters include one shock and its treatment – a subject which one would imagine would become more pertinent as the 1930s neared their end. 'Unlike the previous manual, which contained drawings of men in uniforms, the 39th Edition featured photographs of men in civilian clothes assisting casualties. Photographs of X-rays were also printed' (https://museumstjohn.org.uk/collections/first-aid-manuals/). The illustrations are further a combination of anatomical drawings – ranging from the schematic to the realistic – and half-tone reproductions of photographs showing, for example, bandaging methods, how to staunch bleeding, or ways of positioning or moving a patient's body.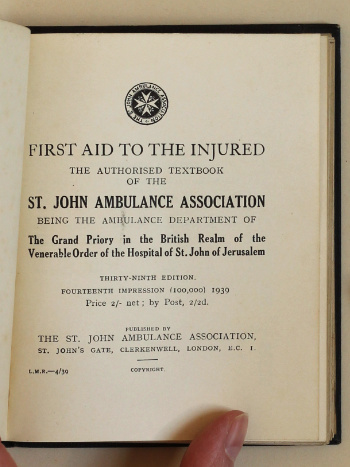 The 39th Edition of First Aid to the Injured was the most printed edition of the manual and was the penultimate one; a supplement was published in 1945 to incorporate information and knowledge gained from the war and the final edition was issued in 1950. According to the Museum of the Order of St. John, 'over three million copies [of the 39th edition] had been printed by December 1943, triple that of the previous edition. The wartime context made first aid all the more important and large numbers of people, including Air Raid Precaution Officers received first aid training from St John and the British Red Cross' (op. cit.).
£19.50
· · · · · · · · · · · · · · · · · · · · · · · · · ·
UK Orders
To order this book within the UK, either use the button below to pay using PayPal or a credit card (using PayPal Guest Checkout), or email us: enquiries@typeandforme.com.
Postage

UK: FREE for items above £45 (otherwise £4.50 per item, added at checkout)

Rest of World: please contact us for a quote: enquiries@typeandforme.com

Multiple orders: we may be able to reduce postage costs! Please enquire: enquiries@typeandforme.com
Our Terms & Conditions apply.