THE SECOND OF PLOMER AND BRITTEN'S THREE 'PARABLES FOR CHURCH PERFORMANCE', IN THE ORIGINAL WRAPPERS
PLOMER, William Charles Franklyn and Edward Benjamin BRITTEN, Baron BRITTEN (composer). The Burning Fiery Furnace. Second Parable for Church Performance … Set to Music by Benjamin Britten, Op. 77. London: The Bowering Press for Faber Music Ltd, 1966.
Octavo (201 x 132mm), pp. 38, [2 (final blank l.)]. (A few light marks.) Original light-green printed wrappers with French flaps, stapled as issued. (Slightly faded on spine and at edges of wrappers, corners slightly creased, small marks on lower wrapper.) A very good, clean copy in the original wrappers.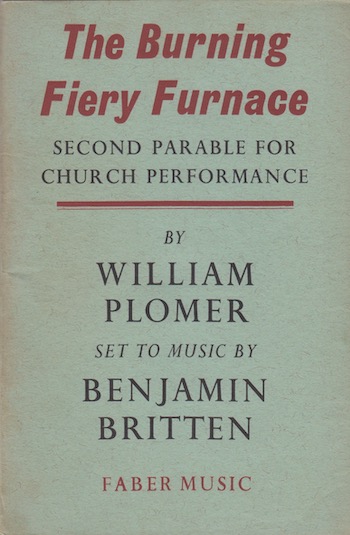 First edition. The Burning Fiery Furnace was the second of the series of three parables for church performance created by Plomer and Britten, which began with Curlew River (1964) and concluded with The Prodigal Son (1968). The three parables drew on Japanese drama and music, which both author and composer had experienced during residences in Japan: Plomer (1903-1973) had lived in the country from 1926 to 1929, teaching English and living with his Japanese partner, Morito Fukuzawa, while Britten (1913-1976) visited Japan during a journey around the world in 1955-1956. In February 1956, Britten attended a performance in Tokyo of the celebrated Noh play Sumidagawa and he 'was overwhelmed by the drama, the ritualistic, idealized action, and the music, a form of recitation accompanied by a very small instrumental on-stage ensemble' (ODNB). Britten's experience of Gagaku, the ancient traditional court music of Japan, had a similarly profound effect: '[w]hat […] is of central importance to comprehend with regard to Curlew River and its successors, The Burning Fiery Furnace (1966) and The Prodigal Son (1968), is the acquisition and deployment of new techniques – heterophony, above all – culled from Britten's encounters with musics from non-Western cultures, an example of the process of absorption and accumulation by which he constantly renewed his musical language. This radical new path makes it possible to present Britten as the most important twentieth-century Western composer substantially to incorporate non-Western techniques into his own compositional practice' (op. cit.).
The Burning Fiery Furnace is based on the story of the Chaldean King Nebuchadnezzar II and the three Israelites who were thrown into a furnace for their refusal to worship his golden image, which is narrated in the biblical Book of Daniel. The work was first performed by the English Opera Group on 9 June 1966 in Orford Church, Suffolk, as part of the Aldeburgh Festival, with Peter Pears in the role of Nebuchadnezzar.
£19.50
· · · · · · · · · · · · · · · · · · · · · · · · · ·
UK Orders
To order this book post-free within the UK, either use the button below to pay using PayPal or a credit card (using PayPal Guest Checkout), or email us: enquiries@typeandforme.com.
Postage

UK: FREE for items above £45 (otherwise £4.50 per item, added at checkout)

Rest of World: please contact us for a quote: enquiries@typeandforme.com

Multiple orders: we may be able to reduce postage costs! Please enquire: enquiries@typeandforme.com
Our Terms & Conditions apply.