THE RICHLY-ILLUSTRATED CATALOGUE OF A MAJOR EXHIBITION ON THE COLLECTIONS
FORMED BY JOSEPH BANKS DURING COOK'S FIRST VOYAGE
BANKS, Sir Joseph, Bt – Neil CHAMBERS (editor). Endeavouring Banks: Exploring Collections from the EndeavourVoyage 1768-1771 … With Contributions by Anna Agnarsdóttir, Sir David Attenborough, Jeremy Coote, Philip J. Hatfield and John Gascoigne. London: Paul Holberton Publishing; Seattle, WA: University of Washington Press; Sydney: NewSouth Publishing, 2016.
Quarto (280 x 232mm), pp. 303, [1 (photographic credits)]. Colour-printed portrait frontispiece after Benjamin West and numerous colour-printed illustrations in the text, many full page. Original paper-backed illustrated boards, spine lettered and decorated in gilt, light-blue endpapers. (Minimal bumping and unobtrusive small mark on lower board.) A very good copy.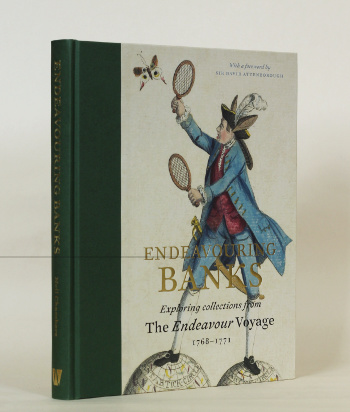 First edition. After HMB Endeavour had returned to England after Cook's first voyage, the materials collected during the voyage were dispersed to a wide range of institutional and private collections, and, as David Attenborough explains in his foreword, 'it has not been possible since that time for anyone to see the full range and richness of the Endeavour's collections in one place. Nearly two hundred and fifty years later, however, that was put right. In 2014, a great range of them was re-assembled from various collections for a celebratory exhibition in Lincoln, Banks's home city. And here is its richly illustrated catalogue. In it you will find reproductions of some of [Sydney] Parkinson's exquisite botanical drawings, together with coloured engravings of them printed from the plates that Banks commissioned, but which were never printed in his lifetime. Here too is a selection of the ethnographic objects, which show the great range and depth of Banks's interests. And how beautiful most of them are, with a perfection of form and detail all the more remarkable to European eyes in that they were all fashioned without the use of metal tools. No expedition before had brought back collections of such a size and importance to such a range of the natural sciences. And Joseph Banks, who was still only twenty-eight years old, had been directly responsible for their assembly. Benjamin West, a fashionable artist of the day, painted Banks's portrait, standing surrounded by a small sample of the artefacts he had gathered – a Tahitian stone-bladed adze, a Māori paddle and spear and a Tahitian headdress. An open volume of plant drawings lies at his feet. On his shoulders he wears a kaitaka, a Māori cloak woven from the fibres of phormium, the New Zealand flax. As he steps forward towards the spectator, he proudly points a finger to its fringe of highly prized near-sacred dog-hair tassels. Such garments decorated in this way were reserved by the Māori for the most senior members of their nobility and young Joseph Banks wears it with visible pride. As well he might' (pp. 7-8).
Endeavouring Banks was edited by Neil Chambers – the curator of the exhibition and editor of The Scientific Correspondence of Sir Joseph Banks, 1765-1820 (London, 2007, 6 vols), The Indian and Pacific Correspondence of Sir Joseph Banks, 1768-1820 (London, 2009-2014, 8 vols) – and it comprises 143 items drawn from the collections of the British Library, the British Museum, the Linnean Society, the National Maritime Museum, the Natural History Museum, the Royal Society, and elsewhere. The catalogue is divided into seven sections titled 'The Voyage: Aims and Organisation', 'The Atlantic Stage', 'The Society Islands', 'New Zealand', 'The East Coast of Australia', 'Homeward Bound', and 'Aftermath', and these sections are interspersed with essays on 'Background to the Endeavour Voyage' (Gascoigne), 'Dressing Up, Taking Over and Passing On: Joseph Banks and Artificial Curiosities from the EndeavourVoyage' (Coote), 'The Material History of the Endeavour: Joseph Banks at the British Library' (Hatfield), 'Exploring Collections from the Endeavour Voyage' (Chambers), and 'After the Endeavour: What Next for Joseph Banks?' (Agnarsdóttir).
£25
· · · · · · · · · · · · · · · · · · · · · · · · · ·
UK Orders
To order this book within the UK, either use the button below to pay using PayPal or a credit card (using PayPal Guest Checkout), or email us: enquiries@typeandforme.com.
Postage

UK: FREE for items above £45 (otherwise £4.50 per item, added at checkout)

Rest of World: please contact us for a quote: enquiries@typeandforme.com

Multiple orders: we may be able to reduce postage costs! Please enquire: enquiries@typeandforme.com
Our Terms & Conditions apply.