SCHIAVONETTI'S ENGRAVING OF PHILLIPS' CELEBRATED PORTRAIT OF BANKS
FROM THE COLLECTION OF ROBERT BRINSLEY BURBIDGE
BANKS, Sir Joseph, Bt – Niccolò SCHIAVONETTI (engraver) and Sir Thomas PHILLIPS (artist). 'To the King's most excellent Majesty This Print of Sir Joseph Banks Bart. President of the Royal Society, is with His Gracious Permission (Granted in July 1809) humbly Dedicated by His Majesty's most dutiful Subjects and Servants'. London: Niccolò Schiavonetti, 1812.
Engraved portrait on wove paper (platemark: 515 x 355mm; sheet: 550 x 420mm). (Laid down onto later (?19th-century) paper support, some light spotting, margins with some light marking, surface abrasion, and short tears.) Modern glazed frame. Provenance: small [?]20th-century inkstamp 'Folio' on margin – Robert Brinsley Burbidge (1943-2019).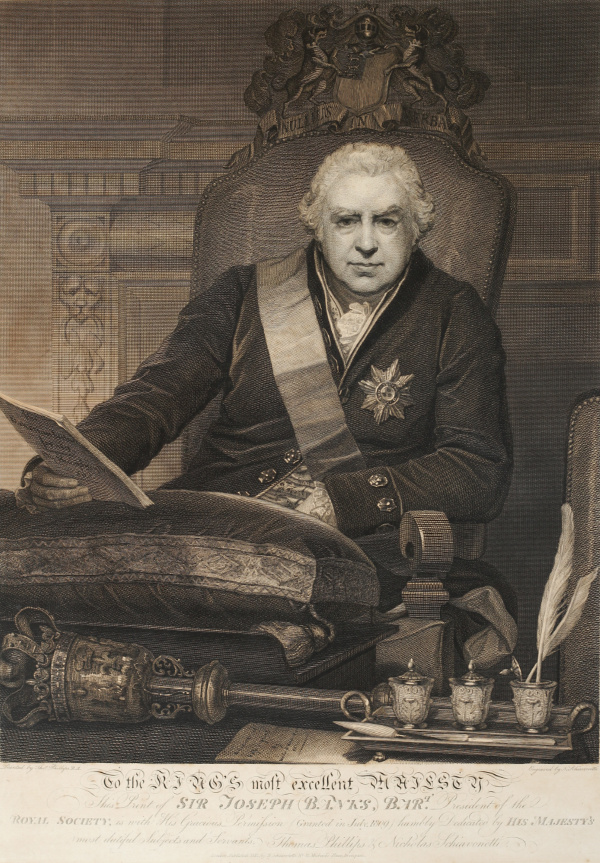 Second state, with letters, of Schiavonetti's engraving of Phillips' celebrated portrait. This engraving by Niccolò Schiavonetti (c. 1771-1813) was the earliest and most faithful rendition of Thomas Phillips' celebrated portrait of Sir Joseph Banks Bt (1743-1820), which had been commissioned in 1807 by Banks' friend and scientific associate José (or Joseph) de Mendoza y Ríos (1761-1816) and painted in 1808-1809.
Banks had been elected a Fellow of the Royal Society in 1766 and served as its President from 1778 to his death. Earlier portraits of Banks included those by Joshua Reynolds and Benjamin West, which had been exhibited at the Royal Academy after his return from the Endeavour's circumnavigation in 1773, but (although Banks had previously also been the subject of numerous caricatures) 'Banksian iconography altered significantly in 1795, when the King awarded him the Red Ribbon of the Order of the Bath', which 'signified immense prestige' (Patricia Fara, 'The Royal Society's Portrait of Joseph Banks', Notes and Records of the Royal Society of London 51 (1997), pp. 199-210, at p. 203). The present engraving is dedicated to George III, and depicts Banks wearing the insignia of the Order of Bath, seated at a table in the Royal Society's Presidential chair bearing the Society's coat of arms, before a marble fireplace with a lion's head design, while a cushion with the Society's Charles II mace and its George III silver inkstands lie before him on the table. Two scientific texts were incorporated into the picture at Banks' own request: the first is a manuscript of Mendoza y Ríos' 1801 paper on the reflecting circle, since this would 'mark the Circumstance of the Picture having been Painted for my friend' (letter from Banks to Phillips of 1 April 1809, quoted by Fara, p. 206). The second, which Banks holds in his hand, is Humphry Davy's Royal Society Bakerian Lecture for 1808, 'On Some New Phenomena of Chemical Changes Produced by Electricity', with which Banks 'advertised himself as Davy's patron, the learned sponsor of research into the physical sciences' (Fara, loc. cit.). Phillips' carefully structured and composed portrait is notable for 'visually combining electrical chemistry, astronomy and botany in a single image' (Fara, p. 206; cf. also Rüdiger Joppien, 'Sir Joseph Banks and the World of Art in Great Britain', in R.E.R. Banks et al. (eds), Sir Joseph Banks: A Global Perspective (London, 1994), pp. 87-103, at p. 89).
Mendoza y Ríos, the patron of the portrait, first attracted widespread attention with his 1787 treatise on navigation, was elected a Fellow of the Royal Society in 1793, and was also noted for designing and improving scientific instruments (his paper on the reflecting circle which is shown here was published in the Royal Society's Philosophical Transactions in 1801). Once Phillips' portrait was finished, Mendoza y Ríos 'presented the picture to Banks for one of his homes […]. The portrait itself was first displayed at the Royal Academy in spring 1809; one copy was later permanently hung in London at the Royal Society, and a second copy (now in Canberra) was in Devon at the home of the Duke of Somerset, probably in the dressing room of his wife, an ardent correspondent of Banks' (Fara, p. 205). The original is now at the State Library of New South Wales, Sydney, but 'a copy of the portrait (1815, also by Thomas Phillips) was requested by the Royal Society and now hangs behind the president's chair in the society's council room' (ODNB, s.v. 'Mendoza y Ríos, Joseph de').
Schiavonetti's engraving was published for sale in 1812 with the intention of bringing Phillips' portrait to a wider audience, and its preparation was 'carefully monitored' by Banks: '[a]rtists were keen to increase their popularity and their income by having their oil paintings engraved, and Phillips raised the subject before the original portrait was even completed. Displaying false modesty, Banks protested his unsuitability as a subject: "a man like me who has never med[d]led in Politics & who Cannot of Course possess a Squadron of Enthusiastic Friends is not likely to Sell a dear Print … I very much doubt in my Case whether a Print of me will Ever Satisfy the pert Claims of a good Engraver & Confess therefore that I See not [sic] hopes of any profit being Reapd by the Father artist of the Painter". However, it was in the same letter that he boasted about the popularity of the engraving of [John] Russell's [pastel] drawing [of 1788, engraved by Joseph Collyer in 1789]. He then tried to ensure that Phillips employed Banks' engraver: "I beg however to hint that as much as I admire the Burin of Schiavonetti I should was I to direct Employ Sharp he has engraved [Matthew] Boulton & John Hunter admirably"' (Fara, p. 206, quoting a letter from Banks to Phillips of 12 September 1808). Luigi Schiavonetti had engraved Phillips' 1807 portrait of William Blake, and his brother Niccolò Schiavonetti was '[d]escribed by a contemporary as "an engraver of great eminence", [and] produced a number of outstanding works' (ODNB, s.v. 'Schiavonetti, Luigi'). Niccolò Schiavonetti's 'facility in portraiture ensured that he engraved (and published) Phillips's portrait of Joseph Banks (1812) on the recommendation of the artist' (loc. cit.). This was not only the first engraving of the portrait, but also '[t]he only faithful replication of the entire picture', since '[s]ubsequent engravers altered details and reduced the image' (Fara, p. 206). The engraving is known in two states: the first before letters and the second (as here) with letters.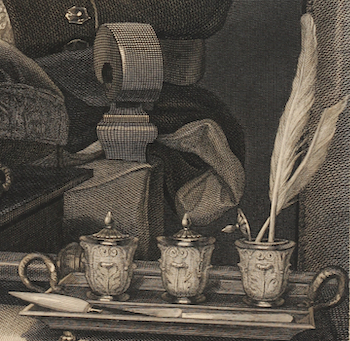 This portrait of Banks was formerly in the collection of the botanist, historian of natural history, and photographer Robert Brinsley Burbidge PhD, FRPS, who was born in Stamford and received his undergraduate education at the University of St Andrews before studying for a doctorate at Edinburgh University. Following a position at the Royal Botanic Garden Edinburgh, Burbidge was appointed head of the Department of Information and Education at the Royal Botanic Gardens, Kew – of which Banks had effectively been Director – where he met Shirley Sherwood, whom he advised on her celebrated collection of botanical art. In the last decade of the twentieth century Burbidge moved to the United States to take up the position of Director of the Fairchild Tropical Botanic Garden in Florida, which he left on his appointment as Director of the Denver Botanic Garden, Colorado in 1999. This was followed by the position of Director of St. George Village Botanical Gardens, US Virgin Islands and, finally, the management of the landscape of a private island near St Thomas, undertaken in partnership with his wife, the gardener and artist Julie Loquidis.
R. Burgess, Portraits of Doctors & Scientists in the Wellcome Institute of the History of Medicine (London, 1973), 164.11; C. Le Blanc, Manuel de l'amateur d'estampes (Paris, 1854-1890), III, p. 449, 'Schiavonetti (Nicolo)', no. 9.
SOLD
· · · · · · · · · · · · · · · · · · · · · · · · · ·
Our Terms & Conditions apply.