WRITINGS FOR GIRLS AND YOUNG WOMEN, BY AN ASSOCIATE OF THE GIRLS' FRIENDLY SOCIETY, IN THE ORIGINAL CLOTH
LEWIS, Elinor [i.e. Lady Elinor HAMMICK]. 'How Hard it is to be Good' and Other Readings for my Girl Friends … Published under the Direction of the Tract Committee. London and New York: William Clowes and Sons, Limited, for Society for Promoting Christian Knowledge and E. & J.B. Young and Co., [1893].
Octavo (168 x 116mm), pp. [1]-112, [1]-8 (publisher's advertisements). Title printed in roman and black letter types, wood-engraved ornamental head- and tailpieces and initials. (A few very light spots or marks, light offsetting [?from unbound sheets while in press] onto verso of half-title.) Original green cloth gilt, upper board lettered and decorated in gilt, with publisher's device in gilt, spine lettered in gilt, coated black endpapers. (Extremities lightly rubbed and bumped, very light spotting on edges of bookblock.) A very good copy in the original cloth. Provenance: Florence Slater, 20 October 1894 (ownership inscription on half-title).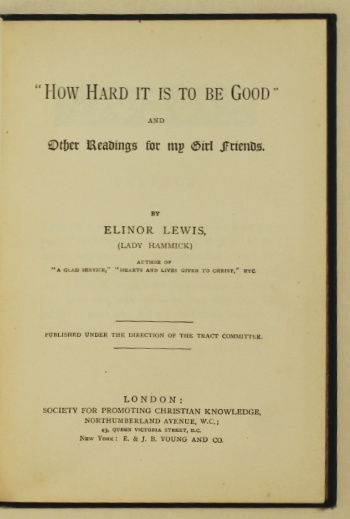 First edition. 'How Hard it is to be Good' is a collection of 'papers […] reprinted, almost word for word, from the magazine in which they came out' ('Preface', p. [5]), by Elinor Lewis (d. 1942), who spent her life around and in the service of religion. Her father was the Reverend Sir Gilbert Frankland Lewis, 3rd Bt (1808-1883), and in 1890 she became the second wife of the soldier Sir St. Vincent Alexander Hammick, 3rd Bt (1839-1927). As a young woman, Elinor Lewis taught Bible classes to girls and young women in London, and since her previous publications – Hearts and Lives Given to Christ. Twenty-Four Bible Lessons for Young Women's Classes (1883, apparently her first book) and 'A Glad Service', Intended to be Used as Bible Lessons for Young Women's Classes, and as a Gift Book to Girls (1885) – identify her on the title as an 'Associate' (i.e. adult mentor) of the Girls' Friendly Society (GFS), it seems likely that her Bible lessons took place under the auspices of the GFS. The GFS had been established in 1875 by Mary Elizabeth Townend 'with the support of the Anglican Church as a pioneer youth organisation to protect working-class country girls who left home to take up urban employment', and by 1880 the GFS enjoyed the patronage of Queen Victoria and 'had nearly 40,000 Members and more than 13,500 Associates' (www.girlsfriendlysociety.org.uk).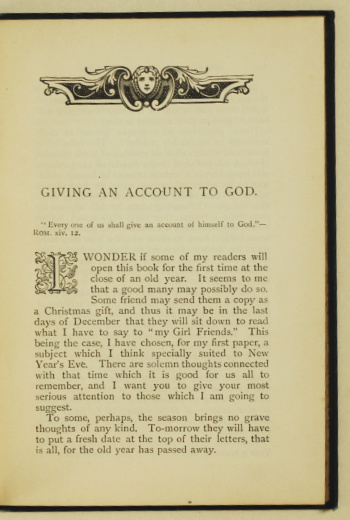 Lewis published prolifically on the subject of girls' religious education from the early 1880s onwards (after her marriage, she continued to publish under her maiden name, modified with the additional '(Lady Hammick)' as here), and her writings always address her audience directly and warmly. It seems likely that some of the pieces collected in 'How Hard it is to be Good' had previously appeared in a GFS publication (such as The Girls' Friendly Society Reporter and the monthly periodical Friendly Leaves), and that Elinor Lewis edited the collection in Britain, before moving to Egypt with her husband, who had been appointed Assistant Adjutant-General in 1892 (her preface stated that 'I now live thousands of miles from my many "Girl Friends" in England', p. [5]). Although it is not dated on the title, 'How Hard it is to be Good'was most probably published in late 1893, since the earliest advertisement for the book we can trace appeared in The Publishers' Circular and Booksellers' Record of British and Foreign Literature, vol. 59, no. 1422 (30 September 1893), p. 381), and the inscription in this copy is dated 20 October 1894. Like Lewis's two earlier books, 'How Hard it is to be Good' was issued by the Society for Promoting Christian Knowledge (SPCK), which had been founded in 1698 by a group of five friends on the occasion of the departure of one of them, the Anglican priest Thomas Bray, for America. The SPCK has published continuously since its foundation, selling its books in the UK and overseas, but many of their publications, like this, were undated. 'How Hard it is to be Good' seems to have remained in print into the early twentieth century, since copies dated 1908 are known. The first edition is scarce in institutional collections, and LHD only locates copies at the British Library, National Library of Scotland, the Bodleian Library, and Cambridge University Library.
£29.50
· · · · · · · · · · · · · · · · · · · · · · · · · ·
UK Orders
To order this book within the UK, either use the button below to pay using PayPal or a credit card (using PayPal Guest Checkout), or email us: enquiries@typeandforme.com.
Postage

UK: FREE for items above £45 (otherwise £4.50 per item, added at checkout)

Rest of World: please contact us for a quote: enquiries@typeandforme.com

Multiple orders: we may be able to reduce postage costs! Please enquire: enquiries@typeandforme.com
Our Terms & Conditions apply.