EPICTETUS TO EDITH SITWELL – ESSAYS BY GOSSE, 'THE MOST GENERALLY SATISFACTORY OF LIVING CRITICS [WHO] HAS GAINED RATHER THAN LOST WITH THE ADVANCE OF YEARS'
GOSSE, Sir Edmund William. Leaves and Fruit. London: R. Clay & Sons, Ltd. for William Heinemann Ltd., 1927.
Octavo (189 x 127mm), pp. [2 (blank l.)], x, 382, [2 (blank l.)]. Title printed in red and black, and with publisher's device. (Scattered, generally very light, spotting, heavier on deckles.) Original brown cloth, upper board lettered and decorated in blind, lower board with publisher's device in blind, spine lettered and decorated in gilt, top edges stained brown, others uncut. (Light offsetting onto free endpapers, spine slightly leant, extremities slightly rubbed and bumped, a few light marks on upper board.) A very good copy in the original cloth. Provenance: carefully erased early ownership inscription on upper pastedown – Elaine Barry, 1956 (presentation inscription on upper pastedown).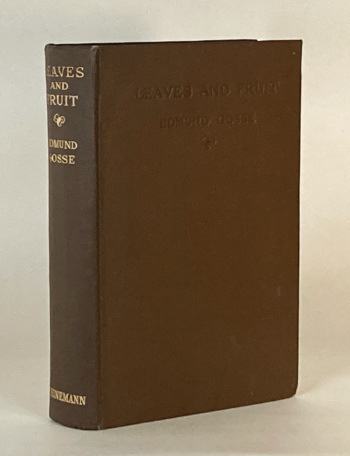 First edition. In 1918 the biographer, poet, critic, and translator Gosse (1849-1928) – who held at that time 'a prestige enjoyed by scarcely any critic of the day' (DNB) – began to write a series of weekly articles on literature for The Sunday Times, which continued until his death. Ann Thwaite judged that '[a]part from Father and Son, Gosse's most enduring writing is found in his collections of essays' (ODNB), and Leaves and Fruit collected a number of these pieces from The Sunday Times. In his preface to the volume, Gosse explains his subjects with the words '[t]hose kind readers who have been sitting every Sunday for the last eight years beneath my imaginary pulpit do not need that I should defend to them the choice of my text. It is, indeed, whimsical in the extreme, and I have to admit that my own taste is indulged by it and not the advice of my parishioners. […] But by dint of gazing interminably over the vast expanse of literature, I have gradually and unconsciously come to regard with equal interest all forms of passionate expression, whether grave or gay, profound or superficial. I ask of books only that they should be amusing, that is to say, competently enough executed to arrest an intelligent observer. My little essays on them are so many pieces of broken looking-glass held up to catch the figures and gestures of life as they pass by. It is for my readers to say whether the mirror is clear or tarnished; at all events I do not think it is dimmed by prejudice' (p. vii).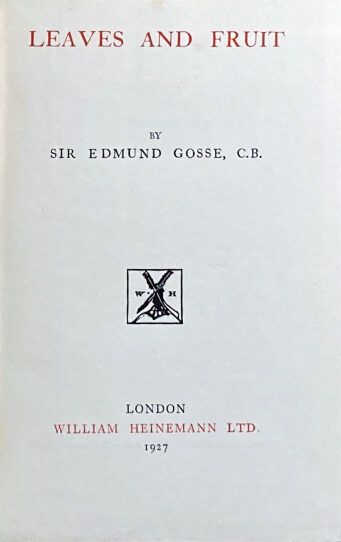 Leaves and Fruit is dedicated to Lytton Strachey 'with affectionate admiration', and the essays span a very broad range of literary subjects relating to British, American, French, and other writers. Among them are pieces upon canonical authors (for example, 'Shakespeare in Arden', 'Gentlest Otway', 'Cibber's Apology', and 'The Prose of Dr. Johnson'), but also articles on gastronomic literature and bibliography ('The Physiology of Taste'), and book-collectors and libraries ('Bodley and the Bodleian'). Although T.S. Eliot wrote in the year that Leaves and Fruit was published that 'Sir Edmund Gosse is completely out of touch with modern poetry' (T.S. Eliot (ed.), The Criterion 1922-1939 … Vol. VI July 1927-December 1927 (London, 1967), p. 195), Gosse – who had been instrumental in introducing Ibsen and Gide to British audiences – also wrote on his twentieth-century contemporaries, such as Strachey, Siegfried Sassoon, and Edith Sitwell ('full of talent and ambition', p. 261), and the collection was well received; for example, Van Wyck Brooks commented in the New York Herald Tribune that 'Edmund Gosse is on the verge of eighty, but there is nothing in Leaves and Fruit, his new collection of essays, to suggest any diminution of the catholicity of mind, the alertness of intelligence, the sureness of taste that make him the most generally satisfactory of living critics. Indeed he has gained rather than lost with the advance of years' (quoted in A. Thwaite, Edmund Gosse: A Literary Landscape 1840-1928 (Oxford, 1985), p. 485).
A Bookman's Catalogue: The Norman Colbeck Collection, p. 302.
£25
· · · · · · · · · · · · · · · · · · · · · · · · · ·
UK Orders
To order this book within the UK, either use the button below to pay using PayPal or a credit card (using PayPal Guest Checkout), or email us: enquiries@typeandforme.com.
Postage

UK: FREE for items above £45 (otherwise £4.50 per item, added at checkout)

Rest of World: please contact us for a quote: enquiries@typeandforme.com

Multiple orders: we may be able to reduce postage costs! Please enquire: enquiries@typeandforme.com
Our Terms & Conditions apply.