NAPOLEON ON ST HELENA, FROM THE LIBRARY OF THE LANCASTRIAN POLITICIAN ROBERT N. PHILIPS, 'A MERCHANT AND POLITICIAN OF THE OLD SCHOOL … A BORN ELECTIONEER'
O'MEARA, Barry Edward. Napoleon in Exile; or, A Voice from St. Helena. The Opinions and Reflections of Napoleon on the Most Important Events of his Life and Government, in his own Words … Fourth Edition. London: J. M'Creery for W. Simpkin and R. Marshall, 1822.
2 volumes, octavo (215 x 133mm), pp. I: xxviii (title, imprint on verso, dedication, 'Translation of the Motto', note on illustrations, preface, preface to the second edition), 512; II: [2 (title, imprint on verso)], 542. Engraved frontispieces by T. Woolnoth after a drawing by Heffernan (I) and a cameo by Morelli (II), the latter with tissue guard, one lithographic plate after Baynes, printed by C. Hullmandel, and one engraved plate by T.A. Dean. Letterpress tables in the text.
(Some light spotting and occasional light marking, some offsetting from engravings, a few ll. with marginal tears or creasing, historic marginal repair on I, C1.) Mid- or late-19th-century English half vellum gilt over marbled boards by Winstanley, Manchester, with pallet on the front free endpaper of vol. I, spines with long central gilt panel with foliate rolls, gilt morocco lettering-pieces above and below it, marbled endpapers, all edges marbled, green silk markers. (Vellum slightly marked, extremities slightly rubbed and bumped, marker in vol. I detached but present.) A very good set. Provenance: some pencil marking and underlining in vols I and II – Robert Needham Philips (1815-1890, engraved armorial bookplates on upper pastedowns).
Fourth edition. The Irish physician Barry O'Meara (1786-1836) was medical attendant to Napoleon at St Helena from 1815 until he resigned from his post in July 1818 (as the result of strong differences of opinion with the Governor, Sir Hudson Lowe), and he was expelled from the island by Lowe. On his return to England O'Meara sent a letter to the Admiralty, insinuating that Napoleon's life was not safe in Lowe's hands, and then published Napoleon in Exile in 1822, which created a sensation, especially because of O'Meara's denouncement of the treatment meted out to Napoleon by Lowe and the British government. Its publication was eagerly awaited, and the appearance of the first edition of 2,000 sets in July 1822 'caused so much stir and was so much in demand that arrangements had to be made to keep those requiring copies in a long file to prevent [Simpkin & Marshall's] shop being overcrowded, purchasers being so numerous that they could not be supplied with sufficient despatch. The crowd of buyers were made to pass through the shop in Stationers' Hall Court, and to prevent confusion had to pass out through Amen Corner' (J. Shaylor, The Fascination of Books, with other Papers on Books & Bookselling (London, 1912), p. 207).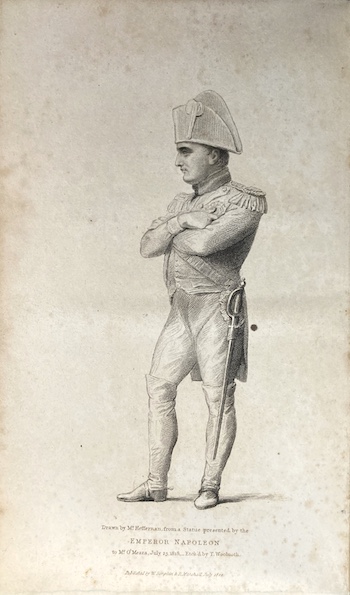 O'Meara was praised by Byron in 'The Age of Bronze' (1823) as '[t]he stiff surgeon who maintain'd his cause / Hath lost his place and gain'd the world's applause', and five editions of his book had appeared by the end of 1822. Nonetheless – despite its popularity with Napoleon's supporters due to its portrayal of Lowe as 'spiteful, arbitrary, and vindictive' – Napoleon in Exile 'was received with scepticism, not least because of inconsistencies between it and earlier accounts by O'Meara' (ODNB). Although it later became evident that O'Meara had overstated his case, the work remains an important primary source for Napoleon's final years, and the English edition of Napoleon in Exile was followed by translations into French (1822), German (1822), Dutch (1822), and Spanish (1827). This fourth English edition contains the 'Preface to the Second Edition', which explains that '[t]his Edition has been carefully revised, a few verbal inaccuracies corrected, and a new Engraving added of a drawing from the statue presented to me by Napoleon on my leaving St. Helena' (I, p. [xxi]).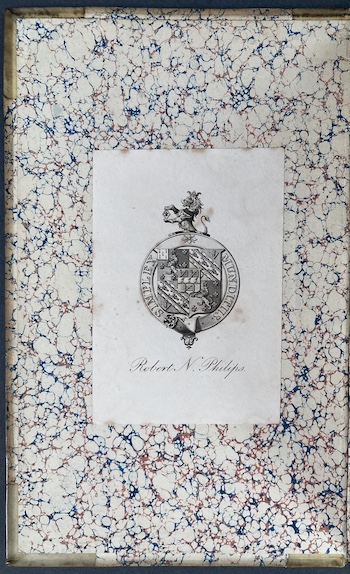 This set was bound by the Manchester bookbinders Winstanley (a family business which was active for most of the nineteenth century), and bears the bookplates of the Liberal politician Robert N. Philips. Philips was educated at Rugby School and Manchester College (the successor of Joseph Priestley's Warrington Academy and the predecessor of the University of Oxford's present-day Harris Manchester College), before embarking upon a career in business and politics. In 1845 Philips married Anna Yates, and, following her death in 1851, he married Anna's cousin Mary Ellen Yates in 1856. The bookplates in this set show the Philips arms with the Yates arms as an escutcheon of pretence, indicating that the bookplates postdate Philips's first marriage in 1845. Philips was appointed a Deputy Lieutenant of Lancashire in 1853 and a Deputy Lieutenant of Warwickshire in 1855, and Sheriff of Lancashire in 1856, holding the position until 1857, when he was elected the Member of Parliament for Bury. At the General Election of 1859 Philips stood down, but in 1865 he was elected for Bury once more, and held the seat until he retired from parliament at the 1885 General Election. Philips's grandson, the historian G.M. Trevelyan, later recalled him as 'a merchant and politician of the old school, a strenuous supporter of Free Trade and Reform, a Unitarian but not a precisian, giving the impression of a hearty squire of the old world rather than of a follower of Cobden as he actually was. He was a born electioneer, and my father's first sight of him was as he sat in his shirt sleeves at the table in Gladstone's Committee Rooms, ordering the Lancashire politicians about like a captain on the quarter-deck in action' (G.M. Trevelyan, Sir George Otto Trevelyan. A Memoir (London, 1932), p. 78).
Although the note on the illustrations gives instructions to the binder for placing the plates (cf. I, pp. [v]-vi), in this set three of the four plates have been bound differently, with the frontispieces in reverse order, and the lithograph of Longwood facing the key to it (rather than in the second volume). These three plates are often found in this order in other sets, presumably because the full-length figure of Napoleon was felt to be a more suitable frontispiece for the first volume and it was much more logical to have the key to the lithograph of Longwood facing the plate.
Kircheisen 4141.
£295
· · · · · · · · · · · · · · · · · · · · · · · · · ·
UK Orders
To order this book post-free within the UK, either use the button below to pay using PayPal or a credit card (using PayPal Guest Checkout), or email us: enquiries@typeandforme.com.
Postage

UK: FREE for items above £45 (otherwise £4.50 per item, added at checkout)

Rest of World: please contact us for a quote: enquiries@typeandforme.com

Multiple orders: we may be able to reduce postage costs! Please enquire: enquiries@typeandforme.com
Our Terms & Conditions apply.