A CATALOGUE WHICH HAS BECOME RECOGNISED AS A REFERENCE WORK ON BRITISH BOOKBINDINGS
MAGGS BROTHERS LTD. Bookbinding in the British Isles Sixteenth to Twentieth Century. Catalogue 1212 Part I [–Part II]. London: B.A.S. Printers Limited for Maggs Bros Ltd, 1996.
2 volumes, folio (296 x 209mm), pp. I: 239, [1 (blank)]; II: 288. Numerous colour-printed and monochrome illustrations in the text, many full-page. (A few light marks, occasional light marginal creasing.) Original printed wrappers designed by Bo Maggs. (Lightly rubbed, bumped and creased at extremities, edges of bookblock lightly marked.) A very good set. Provenance: Jeremy Michael Wilson (1944-2017).
First edition. This catalogue of fine and important bindings produced in the British Isles between the beginning of the sixteenth century and the latter decades of the twentieth comprises some 347 items (including portraits of binders such as Roger Payne and Douglas Cockerell), and has become widely recognised as a reference work on the subject. Among the bookbinders represented are Katharine Adams, James R. Brockman, T.J. Cobden-Sanderson, George Fisher, Elizabeth Greenhill, Charles Hering, C.S. Kalthoeber, Charles Lewis, Edgar Mansfield, Samuel Mearne, Edwin Moore, George Mullen, Sarah Prideaux, and Richard Weir, while the binderies whose work is listed include the Doves Bindery, Edwards of Halifax, the Guild of Women-Binders, the Hoxton Male Refuge Bindery, J. & J. Leighton, Riviere & Son, and Zaehnsdorf. Many of the bindings illustrated and described in the catalogue came from distinguished collections, including those of Mary, Countess of Carnarvon, William Cecil, Lord Burghley, King Charles I, King Charles II, Sir Kenelm Digby, John Evelyn, King James VI of Scotland, Sir Mark Masterman Sykes Bt, Horace Walpole, William Wordsworth, and Thomas Wotton. The catalogue concludes with indices of binders and authors.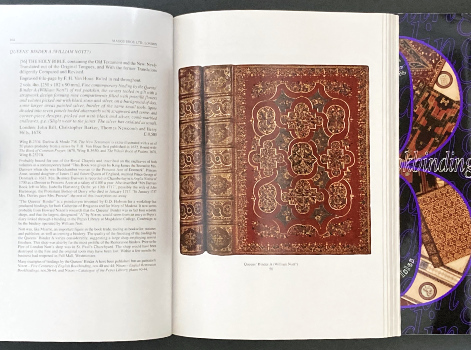 Although not marked as such, this example is from the collection of the distinguished Lawrence scholar Jeremy Wilson, who had a long-standing interest in private press books and fine printing. Wilson and his wife Nicole founded the Castle Hill Press, which published finely-printed and scholarly editions of works by Lawrence; these included Seven Pillars of Wisdom (1997), some sets of which were issued in a designer binding by Glenn Bartley and the Fine Bindery.
£79.50
· · · · · · · · · · · · · · · · · · · · · · · · · ·
UK Orders
To order this catalogue post-free within the UK, either use the button below to pay using PayPal or a credit card (using PayPal Guest Checkout), or email us: enquiries@typeandforme.com.
Postage

UK: FREE for items above £45 (otherwise £4.50 per item, added at checkout)

Rest of World: please contact us for a quote: enquiries@typeandforme.com

Multiple orders: we may be able to reduce postage costs! Please enquire: enquiries@typeandforme.com
Our Terms & Conditions apply.