THE FIRST PUBLICATION OF THREE TRUE CRIME CASES BY CONAN DOYLE – A TESTAMENT TO HIS 'ENDURING FASCINATION WITH DELINQUENT BEHAVIOUR'
DOYLE, Sir Arthur Ignatius Conan. 'Strange Studies from Life. I. The Holocaust of Manor Place [–II. The Love Affair of George Vincent Parker; –III. The Debatable Case of Mrs. Emsley]', in The Strand Magazine. An Illustrated Magazine Edited by George Newnes, vol. XXI, pp. [252]-258, [363]-370, and [483]-489. London: George Newnes, Ltd., 1901.
6 numbers bound in one volume, octavo in 4s (235 x 162mm), pp. [4 (volume half-title, verso blank, volume title, verso blank)], [1]-720 (nos 121-126), [721]-724 (index). Half-tone frontispieces to each no., and half-tone and line illustrations in the text after Sidney Paget, Warwick Goble, et al. (Occasional light marks, occasional light spotting, mainly affecting the margins, small adhesive mark on final p. of index.) Contemporary black moiré cloth, boards ruled in blind, spine lettered and ruled in gilt, all edges speckled red. (Spine slightly faded, extremities lightly rubbed and bumped.) A very good copy.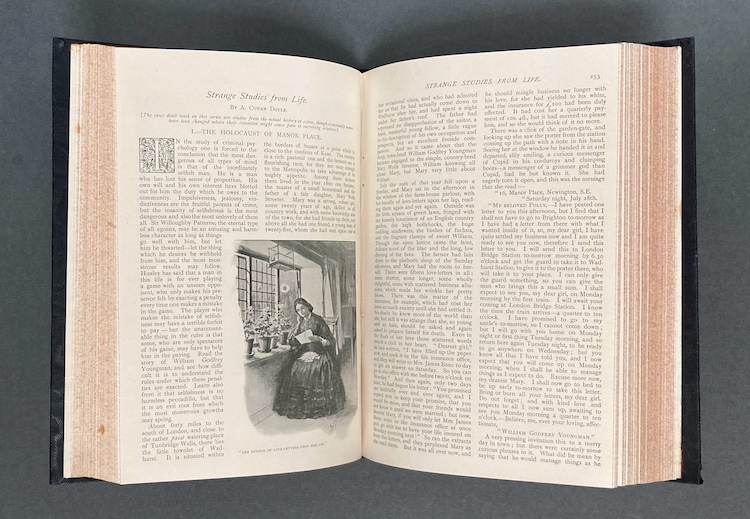 First publication. 'Strange Studies from Life' was a series of narratives of true crimes from the early 1860s – introduced as 'studies from the actual history of crime, though occasionally names have been changed where their retention might cause pain to surviving relatives' (p. [252]) – which testify to Conan Doyle's 'enduring fascination with delinquent behaviour' (A. Lycett, Conan Doyle: The Man who Created Sherlock Holmes (London, 2007), p. [265]). These studies were presumably written, in part, to satisfy a public who had mourned the death of Sherlock Holmes in 'The Final Problem' some eight years earlier, and, like the Sherlock Holmes stories, 'Strange Studies from Life' were illustrated with 14 drawings by Sidney Paget, two of which were the full-page frontispiece to nos 124 and 125.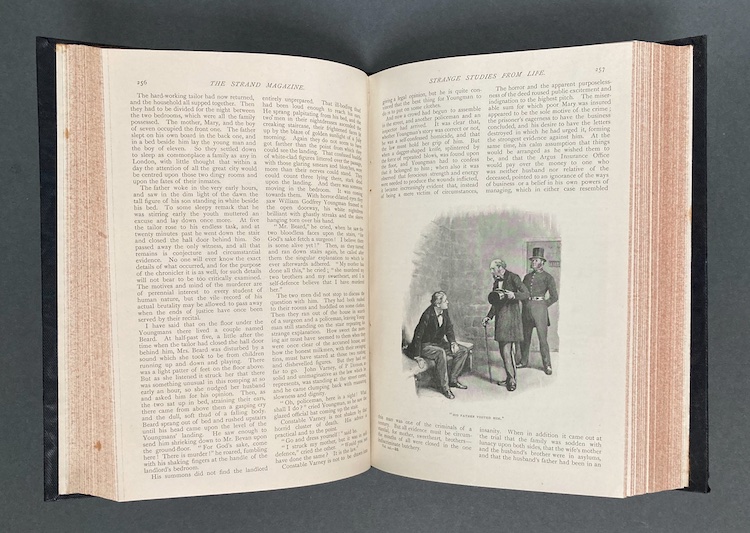 The first of these studies, 'The Holocaust of Manor Place', was the story of 'a multiple murder in Walworth by a man who hoped to defraud an insurance company. The second, "The Love Affair of George Vincent Parker", was about a young man in the Midlands who murdered his girlfriend after she had turned her affections elsewhere. Although sentenced to hang, Parker (actually George Victor Townley) was found insane and sent to an asylum. The third, "The Debatable Case of Mrs. Emsley", looked back on the murder of a wealthy widow in the East End of London' (op. cit., pp. [265]-266). Conan Doyle had intended the series to comprise twelve cases, but only these three appeared, and Conan Doyle wrote to the editor of The Strand that 'I don't think I ever felt more uncertain about anything. However since they have gone out to be illustrated let it stand, but I will write no more until we see how these seem to go' (quoted in Green and Gibson, p. 342), and he was also working on the book in which he resurrected his popular detective – The Hound of the Baskervilles, which would be serialised in the following volumes of The Strand. The three 'Strange Studies from Life' were not issued in book form for six decades, until they were edited by Paul Ruber for publication by the Sir Arthur Conan Doyle Literary Society in 1963.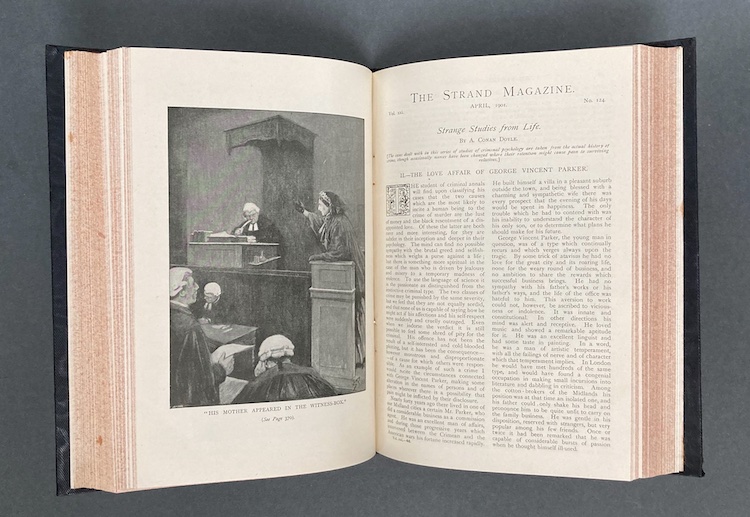 This volume also includes 'A British Commando: An Interview with Conan Doyle' (pp. [633]-640), an article by Captain Philip Trevor, a Surrey neighbour and cricketing friend of Conan Doyle. The article discusses the Undershaw Rifle Club and Conan Doyle's efforts to establish a militia similar to the Boer commandos, which he explained was 'run […] on the most democratic lines. All riflemen are equal' (p. 636). The article is illustrated with eight photographs by Trevor – including one of 'Conan Doyle as Field Cornet', which shows him firing a rifle – and it was published with 'Strange Studies from Life' in the Sir Arthur Conan Doyle Literary Society edition of 1963. The other articles in this volume include Alfred Dreyfus's 'My Life on Devil's Island' (p. [521]-529), recounting his imprisonment following the notorious miscarriage of justice which he suffered and which Conan Doyle would later compare to that inflicted upon George Edalji in his article 'The Case of Mr. George Edalji. Special Investigation by Sir A. Conan Doyle' published in The Daily Telegraph on 11 and 12 January 1907.
Green and Gibson, A. Conan Doyle, pp. 426 ('Strange Studies from Life') and 511 ('A British Commando').
£49.50
· · · · · · · · · · · · · · · · · · · · · · · · · ·
UK Orders
To order this book post-free within the UK, either use the button below to pay using PayPal or a credit card (using PayPal Guest Checkout), or email us: enquiries@typeandforme.com.
Postage

UK: FREE for items above £45 (otherwise £4.50 per item, added at checkout)

Rest of World: please contact us for a quote: enquiries@typeandforme.com

Multiple orders: we may be able to reduce postage costs! Please enquire: enquiries@typeandforme.com
Our Terms & Conditions apply.