CHRISTIE'S CATALOGUE OF THE 'FORGOTTEN LIBRARY' OF THE CELEBRATED BIBLIOPHILE ESTELLE DOHENY,
WHICH FORMS THE FINAL VOLUME IN THE SERIES
DOHENY, Carrie Estelle Betzold – CHRISTIE'S. The Estelle Doheny Collection from St. Mary's of the Barrens, Perryville, Missouri. Fine Printed Books and Manuscripts. Friday, 14 December 2001. New York: Christie's International Media Division for Christie's, 2001.
Folio (296 x 210mm), pp. 436 (including front free endpaper), [2 (rear free endpaper)]. Numerous colour-printed and monochrome illustrations, many full-page. Original red cloth gilt, upper boards lettered in gilt and with gilt border, mounted colour-printed illustration, lower board with gilt facsimile of Doheny's bookplate and lettered in gilt, spine lettered in gilt, cream endpapers. (Small mark on spine, extremities slightly bumped.) A very good, clean copy.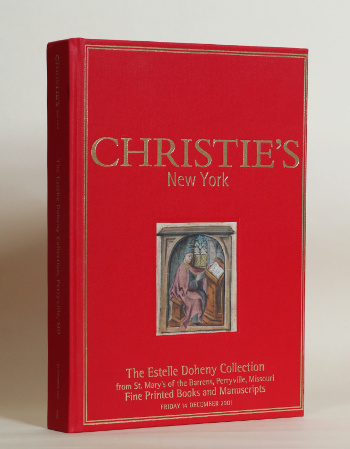 First edition. One of the earliest acquisitions made by the celebrated American philanthropist and bibliophile Estelle Doheny (1875-1958) was a copy of St Augustine's De civitate Dei printed at Mainz by Peter Schoeffer in 1473, and this set the standard for a collection which grew over the following decades into a library which would be recognised as one of the greatest to be formed in the United States in the twentieth century. Following the death of her husband, the California oilman Edward Laurence Doheny, in 1935, Estelle Doheny inherited a considerable fortune, and she 'extended her husband's philanthropic activities and especially made seminaries, hospitals and other Catholic charities the beneficiaries of her generosity. In recognition of her work, Pope Pius XII created her a Countess in 1939, the first such papal title granted in Southern California' (p. 15). Many of her rare books were gifted to the Edward Laurence Doheny Memorial Library at St John's Seminary in Camarillo, CA, and in the latter 1980s the decision was made to sell them on behalf of the Archdiocese of Los Angeles. The library was dispersed in six auctions between 1987 and 1989 in New York, London, and Camarillo, and realised a total of $38 million – her copy of the Gutenberg Bible sold for $5.4 million, establishing a world record for a printed book that would stand for more than two decades.
St John's Seminary was not, however, the only establishment to benefit from Estelle Doheny's generosity with her books, and she had also donated a smaller collection of rare books and manuscripts to the Mission Church of St Mary's of the Barrens in Perryville, MO, which was housed in special rooms. However, '[l]ittle was known about the richness and importance of the books [Doheny] assembled at Perryville, and the collection was only visited by scholars of early printing and manuscripts on rare occasions' (p. 16), until it was examined by Christie's specialists in 2001. When its importance and value became better known, the Congregation of the Mission decided to sell the library to fund its charitable and educational programmes. The auction took place at Christie's New York offices on 14 December 2001 and the catalogue of 451 lots – which was produced in a uniform style with the previous catalogues – attracted international interest. The catalogue is divided into eight sections, comprising 'Illuminated Manuscripts' (lots 1-23); 'Incunabula' (lots 24-154, including a final lot of reference works); 'Bibles' (lots 155-205); 'Liturgies' (lots 206-221); 'General Printed Books' (lots 222-258); 'Historical Manuscripts, Including Americana' (lots 259-291); 'American Literature' (lots 292-400); and 'Fine Bindings and Sets' (lots 401-451). Reflecting the significance of the group of 129 incunabula it included, the catalogue concludes with an 'Index of Lots in Goff Order for 15th Century Printed Books', an 'Index of Provenances for 15th Century Printed Books', and illustrations of 'Rubbings of Binding Tools for 15th Century Books', which are followed by a bibliography of the references cited in the entire catalogue.
This catalogue is the final volume in the set of eight volumes on the Doheny library issued by Christie's which comprised six sale catalogues numbered I-VI (October 1987 to May 1989); The Estelle Doheny Collection from The Edward Laurence Doheny Memorial Library, St. John's Seminary, Camarillo, California … Index. An Alphabetical Check-List, with Prices Realized, of the Six Sale Catalogues of Printed Books and Manuscripts October 1987 to May 1989 … Price Lists and Buyers' Names (New York: Christie's, [s.a.]); and the present catalogue.
£29.50
· · · · · · · · · · · · · · · · · · · · · · · · · ·
UK Orders
To order this catalogue within the UK, either use the button below to pay using PayPal or a credit card (using PayPal Guest Checkout), or email us: enquiries@typeandforme.com.
Postage

UK: FREE for items above £45 (otherwise £4.50 per item, added at checkout)

Rest of World: please contact us for a quote: enquiries@typeandforme.com

Multiple orders: we may be able to reduce postage costs! Please enquire: enquiries@typeandforme.com
Our Terms & Conditions apply.