THE FIRST PUBLISHED EDITION OF HOUSMAN'S INTRODUCTORY LECTURE,
WITH A PREFATORY 'NOTE' BY A.S.F. GOW, IN THE SCARCE DUSTWRAPPER
HOUSMAN, Alfred Edward. Introductory Lecture Delivered before the Faculties of Arts and Laws and of Sciences in University College London October 3, 1892. [London]: The University Press, Cambridge [for the Council of University College, London], 1937.
Octavo (184 x 123mm), pp. [2 (blank l.], [1-6 (half-title, copyright statement on verso, title, imprint on verso, 'Note')], 7-[42], [2 (colophon, verso blank)], [2 (final blank l.)]. Original light-blue boards, upper board and spine lettered in black, dustwrapper, price-clipped. (Light offsetting on endpapers, spine slightly faded, dustwrapper faded on spine, small paint-spots on upper panel, mark on lower panel affecting lower board.) A very good copy in the scarce dustwrapper. Provenance: Eric Northcott (early ownership signature on front free endpaper) – neat marginal marks on 2 pp.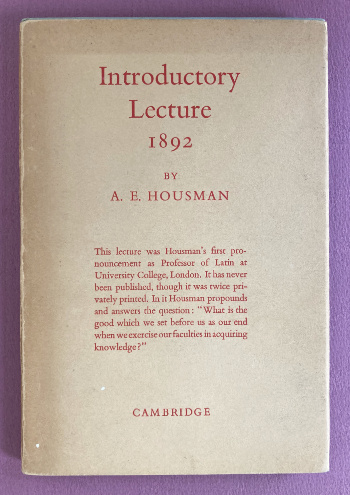 Third (first published) edition. The poet and classical scholar Housman (1859-1936) was educated at Bromsgrove School and St John's College, Oxford, before taking up a position at the Patent Office in London in 1881. During his leisure, Housman continued his study of classics, and began to publish on Latin and Greek authors. In 1882 Housman applied for the professorships of Latin and Greek at University College, London, and on 24 May 1882 he was appointed to the professorship of Latin. 'For nearly nineteen years Housman served University College well, contributing to its administration and its social life, as well as being responsible, at first almost single-handedly, for the teaching of Latin, and playing a significant role in improving the college's academic reputation, at a low ebb on his arrival. He formed particularly happy relationships with W.P. Ker, who had become professor of English in 1889, and Arthur Platt, who became professor of Greek in 1894. Housman was active in the college literary society, delivering witty addresses on various English poets. A very early example of his skill as a public speaker is the introductory lecture delivered on 3 October 1892' (ODNB). The lecture, which was traditionally given by a newly-appointed professor, was the first that Housman gave at University College (although not his inaugural lecture), and its 'theme is that learning, literary and scientific alike, is desirable for its own sake' (A.S.F. Gow, A.E. Housman (Cambridge, 1936), p. 75).
Housman's Introductory Lecture was first printed by Cambridge University Press 'for distribution to members of the Faculties before whom it was delivered. It was not published or for sale at the time, and less than a score of copies seem to have survived' (Carter, Sparrow, and White, p. 1). Some 40 years later it was privately printed (once more at the Cambridge University Press) in an edition of 100 copies for John Carter and John Sparrow, which included one correction made by the author, and it was then first published in the present, posthumous edition, which was also the first to include the prefatory 'Note' by the classicist A.S.F. Gow, who was Housman's biographer and literary executor).
Carter, Sparrow, and White, A.E. Housman, A1b; A Bookman's Catalogue: The Norman Colbeck Collection, p. 394.
£19.50
· · · · · · · · · · · · · · · · · · · · · · · · · ·
UK Orders
To order this book within the UK, either use the button below to pay using PayPal or a credit card (using PayPal Guest Checkout), or email us: enquiries@typeandforme.com.
Postage

UK: FREE for items above £45 (otherwise £4.50 per item, added at checkout)

Rest of World: please contact us for a quote: enquiries@typeandforme.com

Multiple orders: we may be able to reduce postage costs! Please enquire: enquiries@typeandforme.com
Our Terms & Conditions apply.