'A LAST WHEEZE FROM THE OLD BAG AND PIPES. […] ALL WHITENESS AND SILENTNESS AND FINISHEDNESS' –
THE FIRST PUBLICATION OF BECKETT'S PING
BECKETT, Samuel Barclay. 'Ping', in Frank KERMODE and Melvin J. LASKY (editors). Encounter XXVIII, No. 2 (February 1967), pp. 25-26. London: William Clowes and Sons, Limited for Encounter Ltd., 1967.
Quarto (248 x 178mm), pp. 96. Illustrations in the text. Original colour printed wrappers. (Spine slightly faded, a few light marks on wrappers, extremities slightly creased and bumped.) A very good copy.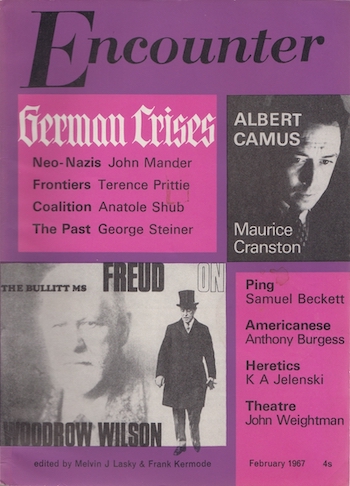 First English edition of Bing, translated by the author. Bing was one of the minimalist prose texts that Beckett (1906-1989) wrote in the 1960s. It was composed in French (as had been Beckett's habit since the mid-1940s) during the summer of 1966 under the provisional title Blanc, and by 18 August 1966 it had progressed sufficiently through various drafts for Beckett to write to his friend Jocelyn Herbert that 'I succeed in hanging on here trying to squeeze a last wheeze from the old bag and pipes. Seem to have got something suitably brief and outrageous all whiteness and silentness and finishedness. Hardly publishable which matters not at all' (quoted in J. Knowlson, Damned to Fame: The Life of Samuel Beckett (London, 1996), p. 542). A week later Beckett wrote to Judith Schmidt that 'months of misguided work have boiled down to 1000 words' (letter of 25 August 1966, loc. cit.) and Bing was first published in Paris by Éditions de Minuit in 1966 in an edition of 762 copies: '[t]he published work has a telegrammatic briskness about it. […] In a text that begins confidently with "all known", the little that can be known comes in "traces blurs signs no meaning". The cylinder has become a small white cube; the 200 inhabitants have been reduced to one, with a hint or hope of a possible other, "perhaps not alone"; the lexical units have themselves been reduced in number. If there is a stylistic richness (and there is) it is achieved through conjunction and combination and enigma lies at the very heart of the seeing as well as the describing' (op. cit., pp. 542-543)
Shortly after the French text was finished, Bing was translated into English by the author under the title Ping. The English text was first published in this issue of Encounter in February 1967, and it was then collected in the 'forthcoming volume' (p. 96) titled No's Knife: Collected Shorter Prose 1945-1966 (London: Calder & Boyars, 1967), which was the first publication in book form of Ping.
Federman and Fletcher, Samuel Beckett, 386.11.
£19.50
· · · · · · · · · · · · · · · · · · · · · · · · · ·
UK Orders
To order this book within the UK, either use the button below to pay using PayPal or a credit card (using PayPal Guest Checkout), or email us: enquiries@typeandforme.com.
Postage

UK: FREE for items above £45 (otherwise £4.50 per item, added at checkout)

Rest of World: please contact us for a quote: enquiries@typeandforme.com

Multiple orders: we may be able to reduce postage costs! Please enquire: enquiries@typeandforme.com
Our Terms & Conditions apply.