SYDNEY PARKINSON and FREDERICK POLYDORE NODDER (artists). 'Plate 89. Acacia Legnota, Pedley, Mimosa anceps (Leguminosae)'. London: Alecto Historical Editions in association with the British Museum (Natural History), 1981.
Engraving by Gerald Sibelius, printed à la poupée by Alecto Historical Editions. Platemark circa 457 x 305mm, printed on acid-free Somerset mould-made 300gsm paper manufactured by the Inveresk Paper Company. The sheet is watermarked 'AHE', measures 724 x 556mm, and bears blind embossed stamps incorporating the publishers' and printer's chops, the copyright symbol, and date of publication; the initials of the individual printer, the plate number, and the edition number are recorded in pencil. The engraving is protected by a bifolium of acid-free Somerset mould-made 300gsm paper, cut to form a window mount on which is recorded the modern and Banksian name of the plant, the location and date of its collection and the names of the artists and engraver.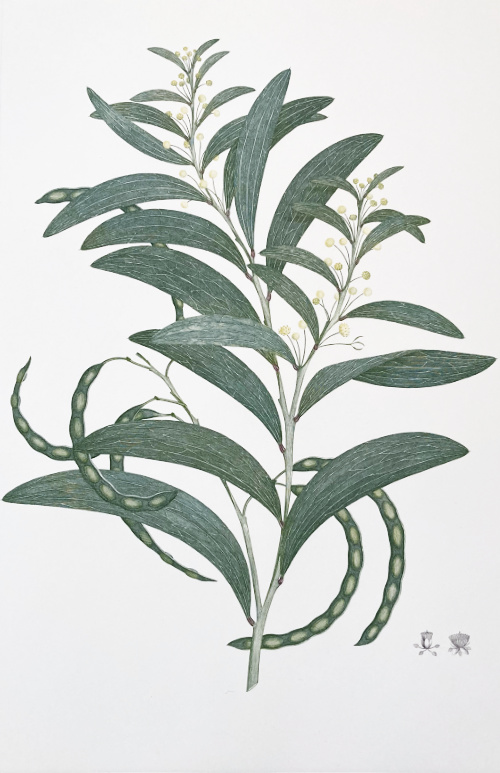 ACACIA LEGNOTA, PEDLEY, MIMOSA ANCEPS
(LEGUMINOSAE)
Species seen in Australia, 17 June – 4 August 1770
Limited to 116 impressions, this no. VIII of 10 hors de commerce and numbered 'HC VIII/X'.
His Majesty's Bark Endeavour had been sent to the Pacific with the purpose of observing the 1769 transit of Venus across the sun, launching from Plymouth in 1768, and approaching New Zealand via Brazil and the Society Islands in the course of the following nine months. But it was Cook's decision to proceed via the east coast of the continent then known as New Holland in 1770 that would be the first step towards the British settlement of Australia. Joseph Banks' botanical discoveries – some 1,300 previously unknown botanical species – revolutionised European understanding of natural history.
This engraving was prompted by Banks' inadvertent stop in Australia in 1770: after the departure from Botany Bay, during the onward journey along Australia's east coast, HMB Endeavour struck a reef, and the necessary repairs – undertaken near the mouth of the Endeavour River, where modern-day Cooktown is located – delayed any further progress until August 1770. This second period spent on previously unexplored shores provided Banks and Solander with further opportunities to discover the flora of eastern Australia.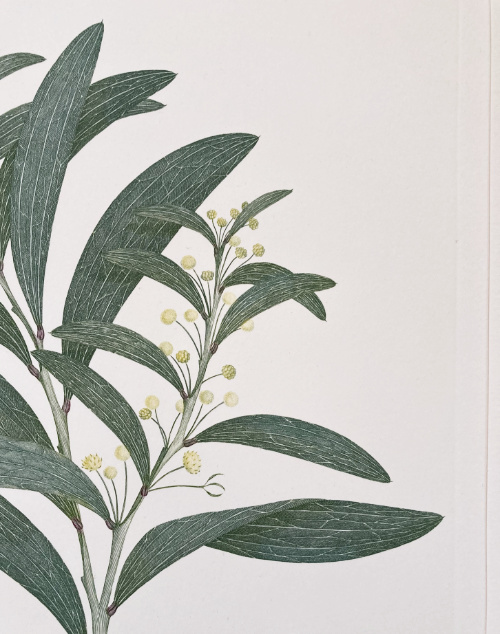 'As in New Zealand, the haul of plants was too great for Parkinson to do more than make sketches for elaboration later, by other hands, as it proved': Parkinson would not survive the journey back to England, so that others had to complete his work in England (Stearn, 'A Royal Society Appointment', p. 108).
This Acacia tree, which Banks and his team during one of their plant gathering campaigns in Australia, is now known by the common name of 'heath wattle'. The Acacia Legnota can be found on the Queensland coast, often along streams and in groves that are beautifully populated with its bright golden-yellow blossoms in June. Its flat seed pods are up to 12 cm long.
Interestingly, while the mount states (possibly in error) that Joseph Banks and his party saw this species at Endeavour River, the Natural History Museum, which holds both the original sketches and the finished drawings for Joseph Banks' Florilegium, notes the place of discovery as Botany Bay and Bustard Bay.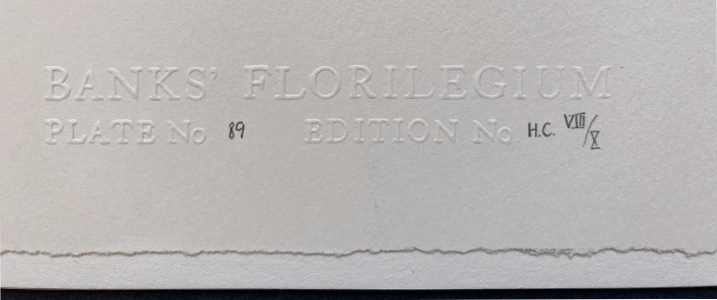 The history of the Florilegium
The seeds for Joseph Banks' Florilegium had been planted with his earliest expedition: on his return to London from Labrador and Newfoundland, Banks had commissioned the young Scottish natural history artist Sydney Parkinson to draw some of the natural history specimens from the expedition on HMS Niger. On the Endeavour, Banks took both Solander and Parkinson (who sadly died at sea in January 1771) with him as members of his scientific party. On his return to England Banks planned an account of the expedition's botanical discoveries, and employed a team of engravers to produce copper plates of Parkinson's drawings. 743 plates were engraved under Banks' supervision by eighteen engravers over a period of thirteen years, at a cost of more than £7,000. Manuscript descriptions of the specimens were prepared by Daniel Solander, but (apart from some small groups of proof plates) the long-anticipated work remained unpublished at Banks' death in 1820, nearly fifty years after he had returned from the Endeavour expedition.
On Banks' death, the engraved copper plates were bequeathed to the British Museum, where they remained in storage until 1900-1905, when monochrome lithographic plates of the Australian flora were made after the original plates (British Museum, Illustrations of Australian Plants, reproducing 320 of the 743 images). The 1973 limited edition (100 copies) of Captain Cook's Florilegium, edited by Wilfrid Blunt and W.T. Stearn included a small number of engravings printed from the original copper plates in black ink only.
It was not until 1979, following successful trial printings of the plates in colour, that Alecto Historical Editions and The British Museum (Natural History) agreed to jointly publish the full set of 738 plates (five of the original 743 had been stolen), printed in colour à la poupée (i.e. by applying the colour to the plate with a cotton ball, and then adding further colour if necessary with a brush). Only 100 sets of Banks' Florilegium, which appeared between 1980 and 1990, were printed for sale (of which all were subscribed), together with sixteen further sets, comprising three printers' proof sets (of which number 1 is at the Royal Botanic Gardens, Kew); three sets printed for exhibition purposes; and ten hors commerce sets (120 plates from set no. VII were sold by Sotheby's, London in 1988 to benefit the Banks Alecto Endeavour Fellowship, and sets IX and X went to The British Museum, Natural History).
The reception was enthusiastic: The Book Collector (vol. XXXVIII, 1989) considered the Alecto edition 'a triumph on many scores: a triumph of imagination, to conceive such an enterprise; a triumph of aesthetic sensibility, to realize that plates originally intended to be printed in black could be rendered in colour with such magical beauty, yet true to nature; a triumph of technical skill, to restore the tarnished plates and print them with unerring precision, maintaining the same high standard from first to last . . .; a triumph, above all of tenacity to bring such a colossal enterprise . . . to a final successful conclusion'.
£495 incl. VAT
· · · · · · · · · · · · · · · · · · · · · · · · · ·
To order this engraving and learn about the available shipping options, please email us: enquiries@typeandforme.com. Our Terms & Conditions apply.