GARDENS BY BURLE MARX, DARWIN, GAUDÍ, GEHRY, GOETHE, JEKYLL, LE CORBUSIER, LUTYENS,
MONET, PAXTON, REPTON, SACKVILLE-WEST, SLOANE, WORDSWORTH, ET AL.
RICHARDSON, Tim (editor). The Garden Book. London: Phaidon Press Limited, 2000.
Quarto (288 x 247mm), pp. 512. Numerous colour-printed and monochrome illustrations in the text. Original black boards, boards lettered in silver, spine lettered and decorated in silver, black endpapers, dustwrapper, not price-clipped. (Extremities lightly bumped, small bump on lower edges of bookblock, dustwrapper slightly creased at edges, very slight fading on dustwrapper spine.) A very good copy.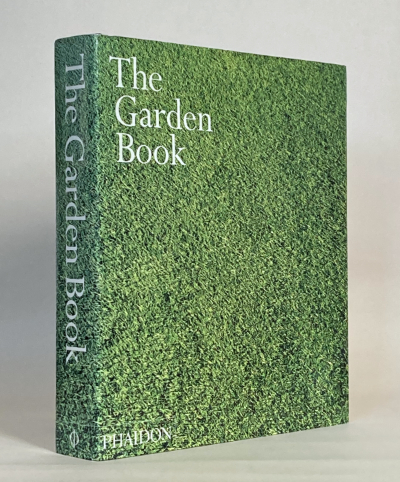 First edition. 'The Garden Book is a comprehensive illustrated survey of 500 of the world's most influential garden makers – designers, patrons and owners – and their gardens. The selection gives an unrivalled overview of the world's gardens and landscapes, from ancient times to the present day. Garden design is a large-scale, time-consuming artform, with relatively few celebrated auteurs – such as Capability Brown, Kobori Enshu, Gertrude Jekyll and André le Nôtre. The Garden Book brings these and many lesser known but highly deserving garden makers to wider attention. It ranges over centuries and across continents, to reflect times and places when garden innovation and creativity were at their height: Ancient China and Japan; Renaissance Italy; seventeenth-century France and Holland; eighteenth-century Britain; and the USA in the twentieth century. Each entry is illustrated by a sublime setpiece view of the designer's finest garden and arranged in A-Z order, with an accompanying commentary to place both garden and maker in stylistic and historical context. The Garden Book helps us to discover the rich artistic inheritance of this ever-changing artform' (p. 3).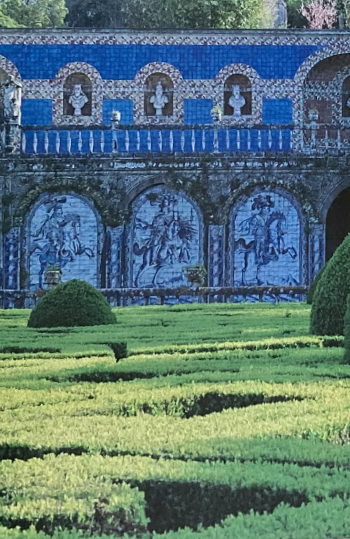 The text is richly illustrated with photographs, engravings, paintings, etc. and is followed by a 'Glossary of Garden Terms and Styles' and a geographically arranged 'Directory of Gardens'. The garden designers selected include well-known professional designers, such as Roberto Burle Marx, Beth Chatto, Gertrude Jekyll, and Humphrey Repton; architects such as Sir Charles Barry, William Chambers, Antonio Gaudí, Frank Gehry, Le Corbusier, Sir Edwin Lutyens, Ludwig Mies van der Rohe, Andrea Palladio, Sir Joseph Paxton, Sebastiano Serlio, Sir Hans Sloane, Sir John Vanbrugh, and Frank Lloyd Wright; artists and sculptors such as Constantin Brancusi, Andy Goldsworthy, Barbara Hepworth, Patrick Heron, Joan Miró, Claude Monet, Henry Moore, William Morris, and Raphael; and writers, scientists, and statesmen, including Charles Darwin, Johann Wolfgang von Goethe, Alexander Pope, Vita Sackville-West, George Washington, and William Wordsworth.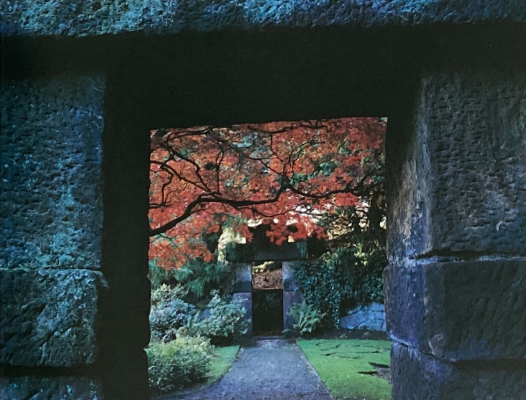 The dustwrapper is known in two states: the present example and one using a typographic design; it is not known which (if any) has priority.
£29.50
· · · · · · · · · · · · · · · · · · · · · · · · · ·
UK Orders
To order this book within the UK, either use the button below to pay using PayPal or a credit card (using PayPal Guest Checkout), or email us: enquiries@typeandforme.com.
Postage

UK: FREE for items above £45 (otherwise £4.50 per item, added at checkout)

Rest of World: please contact us for a quote: enquiries@typeandforme.com

Multiple orders: we may be able to reduce postage costs! Please enquire: enquiries@typeandforme.com
Our Terms & Conditions apply.