A COLLECTION OF ESSAYS ON NATURAL HISTORY BY ELIZA BRIGHWEN FZS, FES, 'ONE OF THE MOST POPULAR NATURAL HISTORY WRITERS OF HER DAY'
BRIGHTWEN, Elizabeth ('Eliza'). Quiet Hours with Nature … Illustrated by Theo. Carreras. London: Unwin Brothers, Limited, The Gresham Press for T. Fisher Unwin, 1904.
Octavo (182 x 118mm), pp. xvi, 271, [1 (blank)]. Title printed in green and black, and with vignette. Half-tone frontispiece printed in green and black, half-tone and line illustrations in the text after Theodore Carreras, Philip Henry Gosse, James Leversuch, et al., 45 full-page. (Some light browning, mainly marginal but heavier on first and last ll., a few light marks.) Original pictorial cloth, upper board blocked in colours and lettered in white, spine lettered and ruled in white and blocked in colours. (Lightly marked, boards scuffed, extremities lightly rubbed and bumped.) A very good copy, in the original cloth. Provenance: Mary Edith Morris, 1905 (b. 1887, ownership inscription on front free endpapers; gift to her niece:) – Elaine Barry (née Morris, presentation inscription 'To Elaine Morris with love & best wishes for 27th March 1940 from Auntie Mary' beneath the latter's ownership inscription).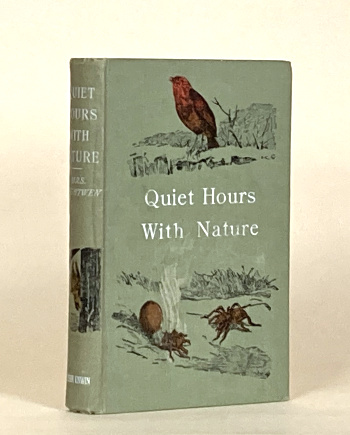 First edition. The natural historian and author Eliza Brightwen FZS, FES (1830-1906) was born in Banff to George and Margaret Elder, but, following the death of her mother in 1837, Eliza was adopted by her uncle, Alexander Elder. Alexander Elder was one of the founders of the leading publishers Smith, Elder, & Co. – whose authors included Charlotte Brontë, Robert Browning, George Eliot, Elizabeth Gaskell, Thomas Hardy, John Ruskin, and Alfred Tennyson – and Eliza grew up in his country houses, Sparrow Hall, Streatham, and Thornbury Park, Stamford Hill. 'From childhood on [Eliza] had a deep interest in natural history, a pursuit that she was well able to exercise during her childhood, roaming the grounds of her uncle's estates and reading from among the thousands of books in his library. As she said of herself, "the early lessons of Natural History kept me constantly wondering and asking 'the reason why'" […]. Although her expertise stemmed primarily from her keen powers of observation, developed over years of nature study, throughout those years Elder also experimented scientifically, developing cultures and dissecting specimens. She also sketched and produced finished watercolours of natural objects. All of these enterprises further enhanced her exceptional powers of observation' (ODNB).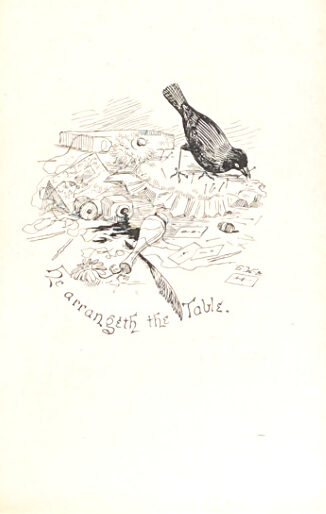 In 1855 Eliza Elder married the businessman George Brightwen, and they moved to The Grove, Stanmore, 'a home which offered her lakes, wood, and a large garden. There she kept copious notes on its birds, plants, and animals and developed a menagerie which she observed closely' (op. cit.). Although Eliza Brightwen suffered from episodes of severe mental ill-health during the 1870s and early 1880s, by the late 1880s she had 'recovered sufficiently to begin assembling her work for publication', and her first book, Wild Nature Won by Kindness (1890), was 'an unqualified success, which made her one of the most popular natural history writers of her day' (op. cit.). Quiet Hours with Nature was Brightwen's last book on natural history, and, as a prefatory note explains, the 'greater portion of this work has appeared in serial form in The Girls' Own Paper' (p. [viii]). The work is divided into three sections – 'Beasts, Birds, and a Beetle', 'Trees I Have Known', and 'Hours in my Garden' – and is illustrated with drawings, watercolours, and photographs by Carreras, the noted naturalist and author Philip Henry Gosse (Brightwen's brother-in-law, whose son Edmund Gosse was the dedicatee of the work), James Leversuch (Brightwen's coachman and photographer), and others.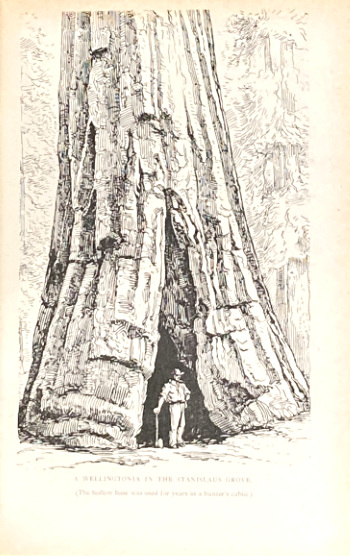 Reviewing Quiet Hours with Nature, the journal Nature judged that 'Mrs. Brightwen writes in a way that is sure to gain the attention of young people. […] The book shows clearly how much worth close inspection and study an English garden contains, and rightly indicates there are common phenomena which still remain unexplained. The book is well illustrated and deserves to be a favourite with boys and girls' (vol. 70, no. 1802 (21 May 1904), p. 29). The first edition of Quiet Hours with Nature is found in two bindings, but we have not been able to establish whether either of these bindings takes priority over the other; the first binding is of pictorial green cloth (as here) and is of blue cloth lettered in gilt (this was also used for the American edition published by T. Fisher Unwin and James Pott).
Mullens and Swann, A Bibliography of British Ornithology, p. 92.
£37.50
· · · · · · · · · · · · · · · · · · · · · · · · · ·
UK Orders
To order this book within the UK, either use the button below to pay using PayPal or a credit card (using PayPal Guest Checkout), or email us: enquiries@typeandforme.com.
Postage

UK: FREE for items above £45 (otherwise £4.50 per item, added at checkout)

Rest of World: please contact us for a quote: enquiries@typeandforme.com

Multiple orders: we may be able to reduce postage costs! Please enquire: enquiries@typeandforme.com
Our Terms & Conditions apply.