A SERVICE DE PRESSE COPY OF THE FRENCH EDITION OF T.E. LAWRENCE'S LETTERS – INCLUDING FOUR NEW LETTERS – FROM THE COLLECTION OF JEREMY WILSON
LAWRENCE, Thomas Edward. Lettres de T.E. Lawrence. Traduites d'après l'édition anglaise … et enrichies de quatre lettres inédites, translated by René Ernest Joseph Eugène Étiemble and Yassu Gauclère. Paris: Chantenay for NRF/Gallimard, 1948.
Octavo (226 x 141mm), pp. x, 832, [2 (imprint, verso blank)]. Half-tone portrait frontispiece and 2 maps printed on coated stock. 2 full-page facsimile sketch maps in the text with blank versos (not included in the pagination), diagrams and plans in the text. (Light, even browning due to poor paper stock, a few light marks, some ll. with short marginal tears or small marginal losses, apparently due to clumsy opening.) Original printed wrappers, printed cancellans slip with revised price tipped onto spine, one quire partially unopened. (Some light offsetting spotting and marking, extremities lightly rubbed and creased, light damp-marking on top edge of bookblock, upper hinge splitting). A very good copy in the original wrappers. Provenance: marginal mark in red crayon beside one paragraph on p. 686 – Jeremy Michael Wilson (1944-2017, ownership signature on p. [i] with pencilled annotation '#29' below and bookplate inside upper wrapper).
Eighth edition, service de presse copy. A translation of David Garnett's Letters of T.E. Lawrence (London, 1938), which contained 583 letters by T.E. Lawrence, augmented with four previously unpublished letters. The translation was the work of the renowned French essayist, scholar, and promoter of Middle Eastern and Asian cultures René Étiemble (1909-2002), and his wife, Yassu Gauclère (1907-1961). They explain in the preface that they have, with the assistance and approval of Lawrence's brother and literary executor A.W. Lawrence, corrected a number of erroneous readings in the English edition: 'Précisions ici que le frère de T.E., le Professeur A.W. Lawrence, a bien voulu nous communiquer toutes les corrections qu'il avait portées sur son propre exemplaire des Lettres, confirmant ainsi plusieurs de nos hypothèses' (p. ix).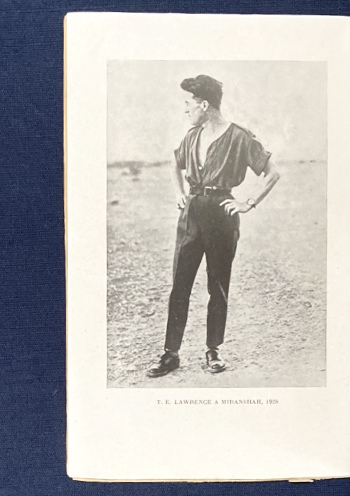 Four additional letters first appeared in book-form in this edition, the first three of which were written to A.F. Nayton (the Governor of Beersheba) during World War I on 22 January 1918, 16 February 1918, and 18 February 1918 (pp. 212-215). The last of the four new letters was written at Clouds Hill on 12 May 1935 – just a week before Lawrence's death – to Sir Karl Parker, the curator of fine art at the Ashmolean Museum, with regard to Lawrence's offer of an Augustus John painting of D.G. Hogarth to the Museum, which had been accepted (this was the portrait of Hogarth used to illustrate The Seven Pillars of Wisdom). The translators received the text of this letter from A.W. Lawrence, and note that T.E. Lawrence would have posted the letter a day after writing it – that is on the day on which T.E. Lawrence also sent a telegram to Henry Williamson and was fatally injured on his journey back from the post office.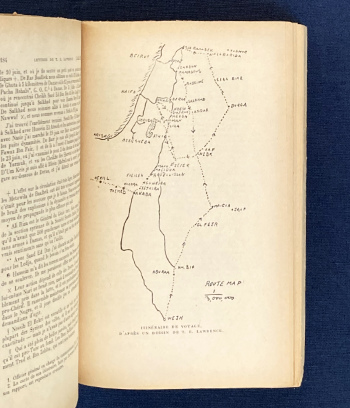 Lettres de T.E. Lawrence evidently enjoyed great success, and the present eighth edition was published in the same year as the first. This is a service de presse copy with a perforated 'S P' stamp on the lower wrapper, and it has a printed label pasted onto the spine with an amended price of 1,150 francs (this would increase to 1,200 francs for the tenth edition). This copy was previously in the collection of the distinguished Lawrence scholar Jeremy Wilson, the editor of T.E. Lawrence's Minorities (London, 1971), the author of the National Portrait Gallery catalogue T.E. Lawrence: Lawrence of Arabia (London, 1988) and the authoritative biography Lawrence of Arabia: The Authorised Biography of T.E. Lawrence (London, 1989), and the co-founder, with his wife Nicole, of the Castle Hill Press, which has published scholarly editions of works by Lawrence and the definitive edition of Lawrence's letters. Wilson has added the number '#29' in pencil beneath his ownership signature, suggesting that he had acquired it for his projected but unpublished bibliography of Lawrence's works.
Cf. O'Brien A207 (noting the third, ninth and tenth editions).
£29.50
· · · · · · · · · · · · · · · · · · · · · · · · · ·
UK Orders
To order this book within the UK, either use the button below to pay using PayPal or a credit card (using PayPal Guest Checkout), or email us: enquiries@typeandforme.com.
Postage

UK: FREE for items above £45 (otherwise £4.50 per item, added at checkout)

Rest of World: please contact us for a quote: enquiries@typeandforme.com

Multiple orders: we may be able to reduce postage costs! Please enquire: enquiries@typeandforme.com
Our Terms & Conditions apply.