Our new catalogue, Literature & Illustration, presents 40 works by writers and artists that span 500 years, from a Dürer woodcut to Matrix, the last typographic journal to be printed by letterpress from metal type.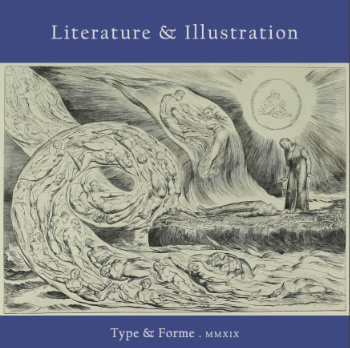 The illustrated works range from famous collaborations – e.g. that between Virginia Woolf and Vanessa Bell – to responses of later generations to the masterpieces of earlier generations (for example Aldous Huxley writing on Piranesi, or William Blake illustrating Dante). Walter William Burgess' engraved views of Chelsea provide a window into the London of 1894, while smaller books for young readers include A.A. Milne's The House at Pooh Corner illustrated by E.H. Shepard, and Beatrix Potter's Story of a Fierce Bad Rabbit.
The literary works include the first publication of Wilkie Collins' The Moonstone, in a journal edited by none other than Charles Dickens; and the rare surreptitious Paris printing (a supposed 'Heidelberg' imprint issued following the poet's death) of Goethe's Faust. An interesting exchange between writers emerges from the correspondence between T.E. Lawrence and his friends Charlotte and G.B. Shaw, and E.M. Forster.
A number of the books in this catalogue contain unique material: there are, among many others, the original drawings of Alfred Munnings illustrating a volume of his poems; an inscribed copy of Jorge Luis Borges' Elogio de la sombra;and a copy of Angela Carter's Saints and Strangers from the author's own library. Many once formed part of the library of Stephen Keynes, the great-grandson of Charles Darwin, and nephew and godson of John Maynard Keynes – among these are a copy of David Jones' Book of Jonah inscribed from Douglas Cleverdon to Stephen Keynes.
To download our Literature & Illustration catalogue (5MB), please click here:
Literature & Illustration