We are delighted to announce the recent addition to Cambridge University Library's astounding Digital Library of an early modern alchemical manuscript whose visualisation of alchemical processes brings alchemical experiments to life in front of its readers' eyes.

The work now commonly known as the 'Crowning of Nature' (or Latin 'Coronatio naturae') here appears only on recto pages, so that the sequence of images – viewed one after the other in quick succession – animates the process of making the philosophers' stone almost like a flip-book: the visual alchemical metaphors show the experiment from the raw materials to their final perfection. Eggs and dragons, birds and elements change before the viewer's eyes, symbolising different materials, methods, and processes – an unusual and mesmerising manifestation of alchemical knowledge.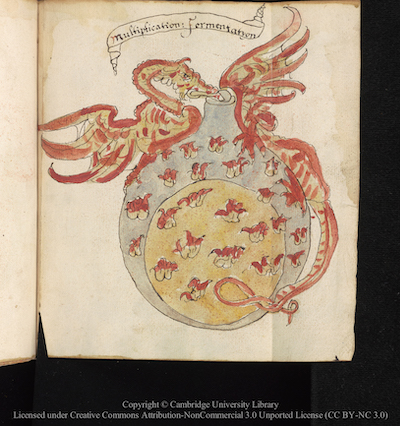 . . . Click on the image above to read and see more . . .
Type & Forme partner Dr Anke Timmermann first worked on CUL manuscript Gg.1.8 when she held the Munby Fellowship in Bibliography in 2013-2014, and has since then established its connection with the copies of the 'Crowning of Nature' at Glasgow University Library's Ferguson Collection. In 2015, a collaboration with the Landesmuseum Halle and Cambridge University Library resulted in an installation at the seminal alchemy exhibition Alchemie – Die Suche nach dem Weltgeheimnis (Nov 2016 – June 2017), which showed visitors the mentioned 'flip book' effect.

The videos below are of the museum installation, and show what an alchemist would have seen in the mind's eye when experimenting in the workshop.
We would like to thank the staff at Cambridge University Library and the Landesmuseum Halle for their work on making this important manuscript accessible to the public.
· · · · · · · · · · · · · · · · · · · · · · · · · ·
If you are interested in the history of alchemy, you may also Anke's series of articles on four of the most notable historic alchemical collections in the UK today: the Ashmole collection at the Bodleian Library, Oxford; the Sloane collection at the British Library; the Young collection at Strathclyde University; and the Ferguson collection at Glasgow University Library.
Any enquiries may be sent to Dr Anke Timmermann.