BARRIE, Sir James Matthew, 1st Bt, and Arthur RACKHAM (artist). Peter Pan in Kensington Gardens ... (From 'The Little White Bird') … Third Edition. London: T. and A. Constable for Hodder & Stoughton, 1907.
Quarto (248 x 183mm), pp. xii, 126. Colour-printed frontispiece and 49 colour-printed plates after Rackham, all mounted on dark-brown paper and with tissue guards bearing printed captions. Wood-engraved vignette and further decoration on title, and 2 wood-engraved illustrations and one letterpress diagram in the text, all after Rackham. (A few light spots and marks.) Original russet-brown cloth gilt, upper board lettered in gilt and with design after Rackham, spine lettered in gilt, dark-brown endpapers, front free endpaper with 'Map of Peter Pan's Kensington Gardens' after Rackham, all edges brown. (Spine slightly faded, extremities lightly rubbed and bumped, boards slightly bowed, upper hinge cracking). A very good copy in the original cloth.
£350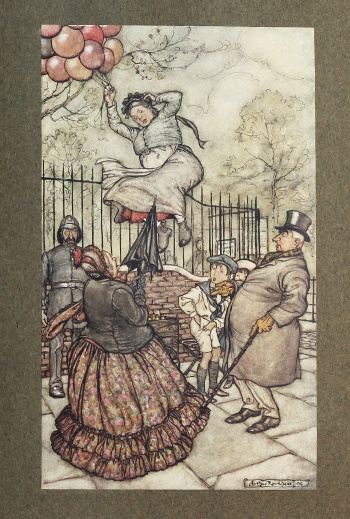 First edition, third trade issue. Arthur Rackham (1867-1939) taught himself to paint as a child, before enrolling for evening classes at the Lambeth School of Art as a teenager. At Lambeth – where his fellow-students included Charles Shannon, Charles Ricketts, and Thomas Sturge Moore, all of whom would become successful book-illustrators and artists – Rackham studied under the landscape painter William Llewellyn, while working during the day as a junior clerk in the Westminster fire office from 1885 to 1892. Rackham began to submit illustrations to magazines, and in 1892 he was employed by 'the Pall Mall Budget as a news and features illustrator, and the following year he moved to the Westminster Budget and the Westminster Gazette. By now he […] was widening his practice by illustrating books for publishers. His name and reliability for delivery and content became known to publishers and public alike, and he was increasingly in demand. Rackham's first notable successes, which coincided with the beginnings of the fashion for lavishly produced gift books, were illustrations to The Ingoldsby Legends (1898), Gulliver's Travels (1900), and Grimm's Fairy Tales (1900)' (ODNB). In these early titles, Rackham's illustrations have the appearance of woodcut-engraving – a medium employed by Shannon and Ricketts to illustrate their Vale Press books – but from 1905 to 1910, as printing techniques developed and with them the possibilities for book illustrators increased, Rackham used sharper, finer lines to produce the remarkably intricate and complex images for which he is known.
The author J.M. Barrie (1860-1937) had first conceived of the character of Peter Pan some years before it first appeared in the novel The Little White Bird in 1902, and the story of Peter and Wendy was then developed for the stage as Peter Pan: or, The Boy who Wouldn't Grow Up. The play was first performed at Duke of York's Theatre, London, on 27 December 1904 in a technically-ambitious production (which many thought was doomed to failure), and Peter Pan began its run somewhat uncertainly. After a couple of weeks, however, it gained an admiring juvenile audience that ensured large audiences until it closed on 1 April 1905, and the play 'broke all previous theatrical records and proved Barrie's most enduring success' (ODNB).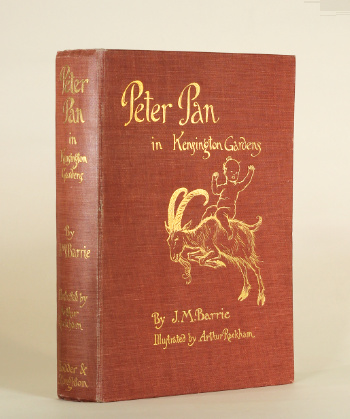 Barrie had admired Rackham's illustrations for Rip van Winkle and had visited the exhibition of the original artworks at the Leicester Galleries, as the author E.V. Lucas reported in a letter to the artist of 29 March 1905: 'I have at last been able to get to your exhibition; which I enjoyed immensely. […] The only thing I quarrel with is the prevalence of "sold" tickets – one on every picture that I liked best. [J.M.] Barrie tells me he has the same grievance. I am glad to hear that you think of treating Peter Pan in the same vein' (quoted in Derek Hudson, Arthur Rackham: His Life and Work (New York, 1973), p. 58). Rackham and Barrie discussed the collaboration further, and it was decided to use an extract from The Little White Bird for the text, rather than the play: 'Rackham could have found no subject more immediately topical, or more fashionably propitious. Peter Pan in Kensington Gardens, as he re-created it, and as it appeared from Hodder and Stoughton with fifty full-page illustrations in colour […], became the outstanding Christmas gift-book of 1906 – and maintained its hold for many later Christmases' (Hudson, p. 61). Barrie was delighted with the finished illustrations, writing to Rackham on 18 December 1906 after the publication of the first edition that, 'I think I like best of all the Serpentine with the fairies, and the Peter in his night-gown sitting in the tree. Next I would [sic] the flying Peters, the fairies going to the ball (as in the "tiff" & the fairy on cobweb) – the fairies sewing the leaves with their sense of fun […] and your treatment of snow. I am always your debtor' (quoted in Hudson, p. 66), and Peter Pan in Kensington Gardens remains Rackham's 'acknowledged masterpiece' (Ray, p. 204).
For the 1st ed., cf. Cutler, Sir James M. Barrie: A Bibliography, 56; Latimore and Haskell, Arthur Rackham: A Bibliography, pp. 27-28; Ray, The Illustrator and the Book in England from 1790 to 1914, 329.
· · · · · · · · · · · · · · · · · · · · · · · · · ·
Our Terms & Conditions apply.