SHAKESPEARE, William and Arthur RACKHAM (artist). A Midsummer Night's Dream. London and New York: Ballantyne & Co. Limited for William Heinemann and Doubleday, Page & Co., 1908.
Quarto in 8s (249 x 183mm), pp. [2 (blank l.), [5 (half-title, other works illustrated by Rackham, title, copyright, dramatis personae)], [1 (blank)], 134, [2 (blank, colophon)]. Colour-printed 'Hentschel Colourtype' frontispiece and 39 colour-printed 'Hentschel Colourtype' plates after Rackham, all mounted on light-brown paper with ochre printed frames and with tissue guards bearing printed captions. Wood-engraved title printed in black and light brown with central vignette and 2 smaller illustrations after Rackham, head- and tailpieces after Rackham printed in black, wood-engraved illustrations in the text, 11 full-page, one wood-engraved border, and wood-engraved head- and tailpieces, all after Rackham. (Occasional light spotting or marking, some light offsetting.) Original tan cloth gilt, upper board lettered in gilt and with design after Rackham, spine lettered in gilt, top edges brown. (Light offsetting and spotting on endpapers, extremities lightly rubbed and bumped.) A very good copy in the original cloth.
SOLD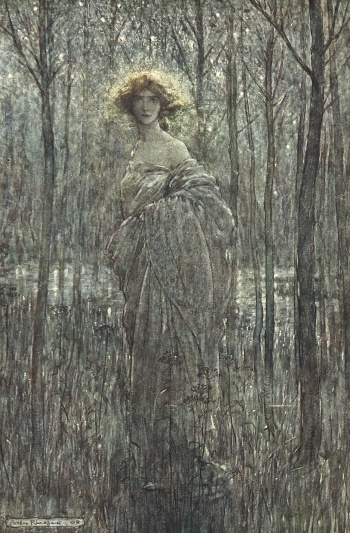 First edition, trade issue. Arthur Rackham (1867-1939) taught himself to paint as a child, before enrolling for evening classes at the Lambeth School of Art as a teenager. At Lambeth – where his fellow-students included Charles Shannon, Charles Ricketts, and Thomas Sturge Moore, all of whom would become successful book-illustrators and artists – Rackham studied under the landscape painter William Llewellyn, while working during the day as a junior clerk in the Westminster fire office from 1885 to 1892. Rackham began to submit illustrations to magazines, and in 1892 he was employed by 'the Pall Mall Budget as a news and features illustrator, and the following year he moved to the Westminster Budget and the Westminster Gazette. By now he […] was widening his practice by illustrating books for publishers. His name and reliability for delivery and content became known to publishers and public alike, and he was increasingly in demand. Rackham's first notable successes, which coincided with the beginnings of the fashion for lavishly produced gift books, were illustrations to The Ingoldsby Legends (1898), Gulliver's Travels (1900), and Grimm's Fairy Tales (1900)' (ODNB). In these early titles, Rackham's illustrations have the appearance of woodcut-engraving – a medium employed by Shannon and Ricketts to illustrate their Vale Press books – but from 1905 to 1910, as printing techniques developed and with them the possibilities for book illustrators increased, Rackham used sharper, finer lines to produce the remarkably intricate and complex images for which he is known.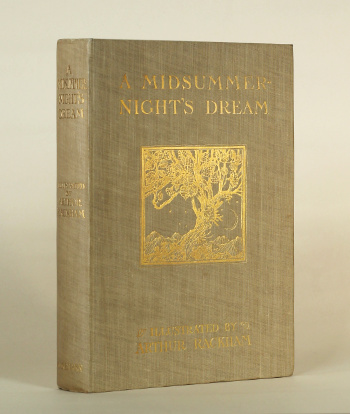 This work contains the first of three suites of illustrations that Rackham undertook for Shakespeare's Midsummer Night's Dream, which was followed by his illustrations for a manuscript of the play written by the calligrapher Graily Hewitt (a commission for the New York Public Library, completed in 1930), and a third set of illustrations, commissioned by the Limited Editions Club, which was published three decades after this edition in 1939, shortly before the artist's death. In this first set of illustrations 'Rackham casts his spell over the play; his drawings superseded the work of all his predecessors from Gilbert to Abbey, and for fifty years have enriched the imagination; his conception of Puck and Bottom, Titania and Oberon, Helena and Hermia, his gnarled trees and droves of fairies, have represented the visual reality of the Dream for thousands of readers. Here he excelled especially in landscape, and in reconciling dream and reality, giving himself to the luxury of rich detail with a rare generosity' (Derek Hudson, Arthur Rackham: His Life and Work (New York, 1973), p. 78).
Rackham's contemporary, the novelist, designer, and ceramicist William de Morgan, judged that his Midsummer Night's Dream was 'the most splendid illustrated work of the century, so far' (loc. cit.) and some seventy years later Gordon N. Ray declared that '[Rackham's] designs for A Midsummer Night's Dream of 1908 became the standard by which subsequent illustrations of Shakespeare's play have been judged' (p. 204). The first edition appeared in a vellum-bound limited issue of 1,000 copies and a trade issue in a cloth binding (as here).
Latimore and Haskell, Arthur Rackham: A Bibliography, p. 32; Ray, The Illustrator and the Book in England from 1790 to 1914, 330.
· · · · · · · · · · · · · · · · · · · · · · · · · ·
Our Terms & Conditions apply.