IRVING, Washington and Arthur RACKHAM (artist). Rip van Winkle. London and New York: Ballantyne & Co. Limited for William Heinemann and Doubleday, Page & Co., 1907.
Quarto (247 x 186mm), pp. xii, 62. Epigraph on verso of half-title printed in green. Mounted colour-printed frontispiece and 49 colour-printed illustrations on 50 mounted colour-printed plates (one illustration double-page) after Rackham, all mounted on dark-green paper, each illustration with a tissue guard bearing the printed caption. Wood-engraved vignette and further decoration on title, one wood-engraved headpiece, and one wood-engraved initial, all after Rackham. (Scattered light spotting, a few light marks, one plate with small marginal crease, one tissue guard with clean marginal tear.) Original green cloth gilt, upper board lettered in gilt and with design after Rackham, lower board blocked in blind with publisher's device, spine lettered in gilt, dark-green endpapers, all edges green. (Spine slightly faded and leant, extremities lightly rubbed and bumped.) A very good copy in the original cloth.
SOLD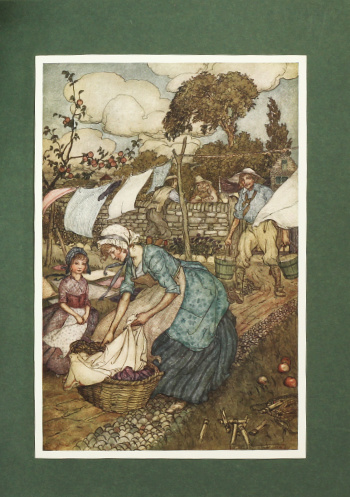 First edition, third trade issue. Arthur Rackham (1867-1939) taught himself to paint as a child, before enrolling for evening classes at the Lambeth School of Art as a teenager. At Lambeth – where his fellow-students included Charles Shannon, Charles Ricketts, and Thomas Sturge Moore, all of whom would become successful book-illustrators and artists – Rackham studied under the landscape painter William Llewellyn, while working during the day as a junior clerk in the Westminster fire office from 1885 to 1892. Rackham began to submit illustrations to magazines, and in 1892 he was employed by 'the Pall Mall Budget as a news and features illustrator, and the following year he moved to the Westminster Budget and the Westminster Gazette. By now he […] was widening his practice by illustrating books for publishers. His name and reliability for delivery and content became known to publishers and public alike, and he was increasingly in demand. Rackham's first notable successes, which coincided with the beginnings of the fashion for lavishly produced gift books, were illustrations to The Ingoldsby Legends (1898), Gulliver's Travels (1900), and Grimm's Fairy Tales (1900)' (ODNB). In these early titles, Rackham's illustrations have the appearance of woodcut-engraving – a medium employed by Shannon and Ricketts to illustrate their Vale Press books. From 1905 to 1910, however, as new printing techniques developed, Rackham used sharper, finer lines to produce the remarkably intricate and complex images for which he is known, and 'Rip van Winkle […] was a turning point in his career because of its fifty-one color plates. […] Rackham with this book achieved preeminence as an illustrator working in the three-color process' (Ray, p. 203).
The story 'Rip van Winkle' by the American writer Irving Washington (1783-1859), was first published in a pseudonymous collection of short pieces titled The Sketch Book of Geoffrey Crayon, Gent (New York, 1819-1820), which brought Irving international fame and also included 'The Legend of Sleepy Hollow' (which Rackham would illustrate in 1928).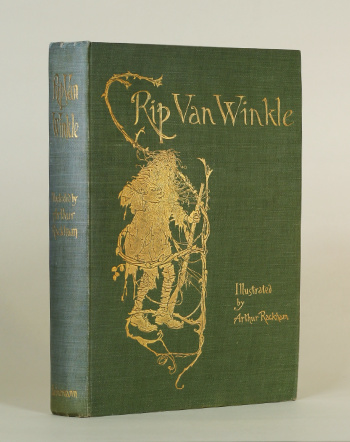 The story 'Rip van Winkle', which was based on a German folk-story but set in pre-Revolutionary New York state, became one the best-known children's tales in English, enjoying a success which endures to the present day; similarly, Rackham's illustrations for it have delighted successive generations of readers. As Derek Hudson observed, '[t]his lovely book decisively established Rackham as the leading decorative illustrator of the Edwardian period. One does not know which to admire most – the superb artistry of his landscapes, the poetry of the scenes of Rip by the riverside, the charm of his children and fairies, or the grotesque groups of Henrick Hudson and his crew, which so long anticipated the art of Walt Disney' (Arthur Rackham: His Life and Work (New York, 1973), p. 57). It was also the first of Rackham's books to be published by William Heinemann, who would publish many of his later titles and also established the tradition of producing signed, limited issues of the first editions. Another tradition that started with this title was that of a selling exhibition of Rackham's original illustrations, to accompany the publication of a new illustrated book. The exhibition of the original illustrations for Rip van Winkle took place at the Leicester Galleries in London during March 1905, and was very well received; for example, the author E.V. Lucas wrote to Rackham 'I have at last been able to get to your exhibition; which I enjoyed immensely. […] The drawings seem to me extraordinarily successful & charming. The only thing I quarrel with is the prevalence of "sold" tickets – one on every picture that I liked best. [J.M.] Barrie tells me he has the same grievance' (quoted in Hudson, p. 58).
This copy is dated February 1907, and was the third printing of the trade issue, which had first appeared in September 1905. A new edition of Rip van Winkle was published in 1916, which was a reprint of the 1905 edition but only contained 24 full-page illustrations in colour (it did, however, include some new black-and-white illustrations).
For the 1st ed., cf. Latimore and Haskell, Arthur Rackham: A Bibliography, p. 26; Ray, The Illustrator and the Book in England from 1790 to 1914, 328.