MOTTE-FOUQUÉ, Friedrich Heinrich Karl, Baron de la, and Arthur RACKHAM (artist). Undine … Adapted from the German by W[illiam].L[eonard]. Courtney. London and New York: Ballantyne & Co. Limited for William Heinemann and Doubleday, 1909.
Quarto in 8s (249 x 183mm), pp. viii, 136. Colour-printed 'Hentschel Colourtype' frontispiece and 14 colour-printed 'Hentschel Colourtype' plates after Rackham, all mounted on beige-brown paper with light-green printed frames and with tissue guards bearing printed captions. Wood-engraved title printed in black with decorative borders after Rackham printed in green, head- and tailpieces after Rackham printed in black. (A few light marks, occasional light spotting, mainly affecting fore-edges.) Original blue cloth gilt, upper board lettered in gilt and with design after Rackham, lower board blocked in blind with publisher's device, spine lettered in gilt and decorated with design after Rackham, decorated endpapers with illustrations after Rackham printed in green, top edges blue, fore-edges trimmed, lower edges uncut. (Some offsetting and spotting on endpapers, extremities very lightly rubbed and bumped.) A very good, bright copy in the original cloth.
SOLD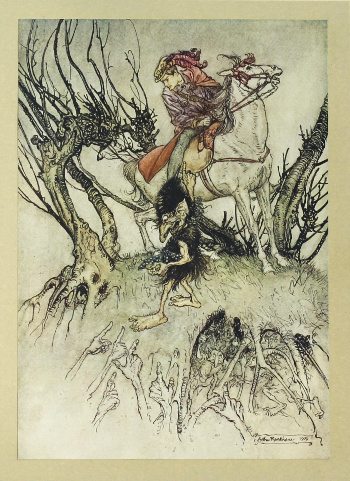 First edition, trade issue. Arthur Rackham (1867-1939) taught himself to paint as a child, before enrolling for evening classes at the Lambeth School of Art as a teenager. At Lambeth – where his fellow-students included Charles Shannon, Charles Ricketts, and Thomas Sturge Moore, all of whom would become successful book-illustrators and artists – Rackham studied under the landscape painter William Llewellyn, while working during the day as a junior clerk in the Westminster fire office from 1885 to 1892. Rackham began to submit illustrations to magazines, and in 1892 he was employed by 'the Pall Mall Budget as a news and features illustrator, and the following year he moved to the Westminster Budget and the Westminster Gazette. By now he […] was widening his practice by illustrating books for publishers. His name and reliability for delivery and content became known to publishers and public alike, and he was increasingly in demand. Rackham's first notable successes, which coincided with the beginnings of the fashion for lavishly produced gift books, were illustrations to The Ingoldsby Legends (1898), Gulliver's Travels (1900), and Grimm's Fairy Tales (1900)' (ODNB). In these early titles, Rackham's illustrations have the appearance of woodcut-engraving – a medium employed by Shannon and Ricketts to illustrate their Vale Press books – but from 1905 to 1910, as printing techniques developed and with them the possibilities for book illustrators increased, Rackham used sharper, finer lines to produce the remarkably intricate and complex images for which he is known.
As his fame and income increased, Rackham and his wife Edyth (who had studied painting in Paris), travelled throughout continental Europe, 'particularly to Germany, the Alps, and Italy, and he painted in watercolour on these journeys. As a direct result European landscape and architectural subjects peppered his illustrations, and he developed a particular fondness for German literature and language' (op. cit.), illustrating, for example, the tales of Jacob and Wilhelm Grimm (see above), Undine (1909), and The Rhinegold and the Valkyrie (1910) and Siegfried (1911) from Wagner's Ring cycle. Written by the Prussian novelist and playwright Friedrich de la Motte-Fouqué (1777-1843), the fairy-tale Undine, which was first published in 1811, was the most successful of his works. The eponymous Undine is a water-sprite who marries the knight Huldbrand, in order to acquire a soul and thus become human. Huldbrand is, however, deceived by Undine's uncle Kühleborn and persuaded to disown Undine in order to marry Bertalda. Shortly after the ceremony, a fountain is unsealed, which releases Undine who kisses Huldebrand, causing his death as had been predicted. After his burial, Undine transforms herself into a stream encircling Huldebrand's grave, enabling her to embrace him eternally. Undine became one of the best-known fairy-tales of the nineteenth century (both in the original German and numerous translations), and inspired operas, ballets, films, and works by other writers, such as Hans Christian Andersen's The Little Mermaid.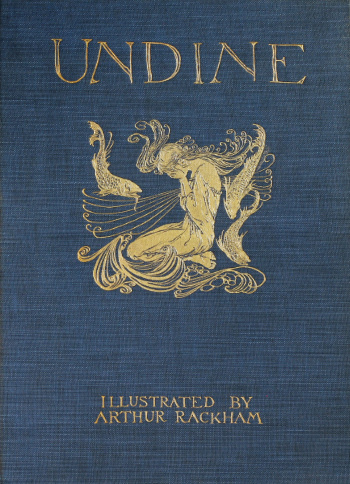 As David Blamires wrote, in Undine '[t]he impact of [Rackham's] visits to Germany and Switzerland can be seen in the depiction of medieval buildings and mountain scenery, and the picture of Undine on horseback with Kühleborn and Heilmann at her side is compositionally related to Dürer's engraving The Knight, Death and the Devil, of which Rackham had a reproduction on his dining room wall. […] Rackham's illustrations are modern, subtle in their colours and moods and wonderfully expressive of Edwardian elegance' (Telling Tales: The Impact of Germany on English Children's Books 1780-1918 (Cambridge, 2009), p. 126).
The philosopher and journalist W.L. Courtney (1850-1928) had left a career as a philosopher at the University of Oxford for one in literature and journalism, and was the chief drama critic and the literary editor of The Daily Telegraph from the mid 1890s to 1925, and the editor of The Fortnightly Review from 1894 until his death in 1928. Courtney had previously adapted Undine for the stage (his adaptation premiered at the Shakespeare Theatre, Liverpool on 23 September 1903) and then produced the English text which accompanies Rackham's illustration in this edition. The first edition appeared in a vellum-bound limited issue of 1,000 copies and a trade issue in a cloth binding (as here), with decorated endpapers designed by Rackham, which are not present in the limited edition.
Latimore and Haskell, Arthur Rackham: A Bibliography, pp. 34-35.
· · · · · · · · · · · · · · · · · · · · · · · · · ·
Our Terms & Conditions apply.