GRIMM, Jacob Ludwig Carl and Wilhelm Carl, and Arthur RACKHAM (artist). The Fairy Tales of the Brothers Grimm … Translated by Mrs Edgar Lucas [i.e. Alice Lucas]. London: T. and A. Constable for Constable & Company Ltd, 1909.
Quarto in 8s (247 x 185mm), pp. xv, [1 (blank)], 325, [1 (imprint)], [2 (blank l.)]. Colour-printed frontispiece and 39 colour-printed plates after Rackham, all mounted on heavy stock and with tissue guards bearing printed captions. Wood-engraved title printed in black and red with vignette and pictorial border, wood-engraved illustrations in the text, 9 full-page, and wood-engraved head- and tailpieces, all after Rackham. (A few small marks, some apparently caused by candlewax.) Original red cloth gilt, upper board lettered in gilt and with design after Rackham, spine lettered in gilt and with design after Rackham, decorated endpapers with illustrations after Rackham printed in red, top edges red. (Spine slightly faded, light offsetting on endpapers, extremities lightly rubbed and bumped, slight cracking on bookblock.) A very good copy in the original cloth.
SOLD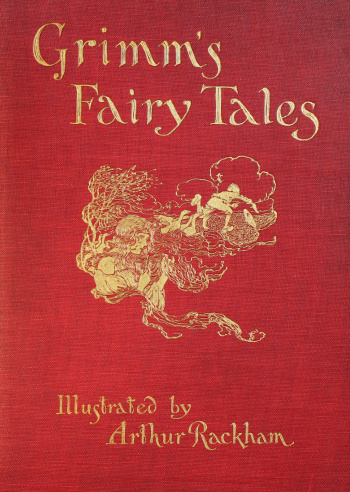 First edition thus, trade issue. Arthur Rackham (1867-1939) taught himself to paint as a child, before enrolling for evening classes at the Lambeth School of Art as a teenager. At Lambeth – where his fellow-students included Charles Shannon, Charles Ricketts, and Thomas Sturge Moore, all of whom would become successful book-illustrators and artists – Rackham studied under the landscape painter William Llewellyn, while working during the day as a junior clerk in the Westminster fire office from 1885 to 1892. Rackham began to submit illustrations to magazines, and in 1892 he was employed by 'the Pall Mall Budget as a news and features illustrator, and the following year he moved to the Westminster Budget and the Westminster Gazette. By now he […] was widening his practice by illustrating books for publishers. His name and reliability for delivery and content became known to publishers and public alike, and he was increasingly in demand. Rackham's first notable successes, which coincided with the beginnings of the fashion for lavishly produced gift books, were illustrations to The Ingoldsby Legends (1898), Gulliver's Travels (1900), and Grimm's Fairy Tales (1900)' (ODNB). In these early titles, Rackham's illustrations have the appearance of woodcut-engraving – a medium employed by Shannon and Ricketts to illustrate their Vale Press books – but from 1905 to 1910, as new printing techniques developed and with them the possibilities for book illustrators increased, Rackham used sharper, finer lines to produce the remarkably intricate and complex images for which he is known.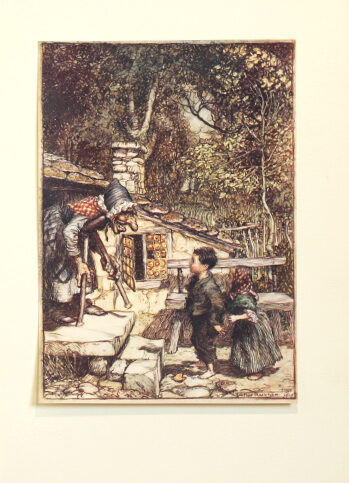 The German folklorists and philologists Jacob and Wilhelm Grimm (1785-1863 and 1786-1859) first published their pioneering collection of folk- and fairy-tales as Kinder- und Hausmärchen in two volumes in 1812 and 1815. The collection, which included stories such as 'Hansel and Gretel', 'Snow White', 'Little Red Riding Hood', 'Sleeping Beauty', 'Tom Thumb', 'Rapunzel', 'The Golden Goose', and 'Rumpelstiltskin', soon achieved an international fame, and the first English translation was published in the following decade as German Popular Stories (London, 1823-1826) with etchings by George Cruikshank – the first book to be illustrated by Cruikshank and the first in a series of British illustrated editions of the text. Rackham's edition, which is one of the most celebrated, used a translation by Alice Lucas (née Erichsen, 1855-1944), the sister of the artist Nelly Erichsen and the daughter of Hermann Erichsen, a Danish businessman who had settled in England. Alice Lucas was an experienced translator by the time she translated Grimm's fairy tales into English, and she had already translated and edited the collections Translations from the German Poets of the 18th and 19th Centuries (London, 1876), Songs of Zion by Hebrew Singers of Mediaeval Times (London, 1894), and The Jewish Year: A Collection of Devotional Poems for Sabbaths and Holidays throughout the Year (London, 1898); translated the Danish author Henrik Pontoppidan's Emanuel; or, Children of the Soil (London, [1896]) and The Promised Land (London, 1896), both of which were illustrated by her sister; and translated Hans Christian Andersen's Fairy Tales (London, 1899).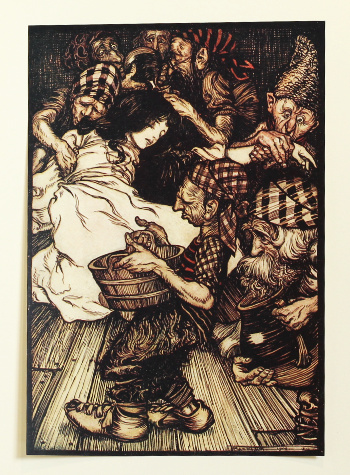 Alice Lucas' 'new translation' of the Grimm brothers' fairy tales was first published in London in 1900, and illustrated with a colour-printed frontispiece and 99 black-and-white illustrations by Rackham. 'The book was immediately successful, and its publication marked the beginning of Rackham's lasting fame. […] At intervals from 1900 onwards Rackham worked on the original drawings, partially or entirely redrawing some of them in colour, adding new ones in colour and black-and-white, and generally overhauling them as a set, until the final and best-known edition, of 1909, contained forty coloured illustrations and fifty-five line drawings. […] A comparison between the first and the last editions of his Grimm emphasizes the remarkable progress that Rackham had made in a decade; yet the earlier drawings he allowed to stand can hold their own with the later ones' (Derek Hudson, Arthur Rackham: His Life and Work (New York, 1973), pp. 46-48).
Not only did Rackham's illustrations delight his readers, but they were also among the artist's own favourites, as he wrote to Frank Redway some years after this edition appeared: '[i]n many ways I have more affection for the Grimm drawings than for other sets. (I think it is partly one's childhood affection for the stories.)' (letter of 28 May 1914, quoted in Hudson, pp. 46-48). Rackham would go on to publish another illustrated edition of tales from Grimm under the title Little Brother and Little Sister (London, 1917), and two selections from the sixty stories contained in the present edition, accompanied by their illustrations, were published in 1920 under the titles Snowdrop & Other Tales by the Brothers Grimm and Hansel & Gretel & Other Tales by the Brothers Grimm. This edition of The Fairy Tales of the Brothers Grimm was published in a vellum-bound limited issue of 750 copies and a trade issue in a cloth binding (as here), with decorated endpapers designed by Rackham, which are not present in the limited edition.
Latimore and Haskell, Arthur Rackham: A Bibliography, p. 34.
· · · · · · · · · · · · · · · · · · · · · · · · · ·
Our Terms & Conditions apply.